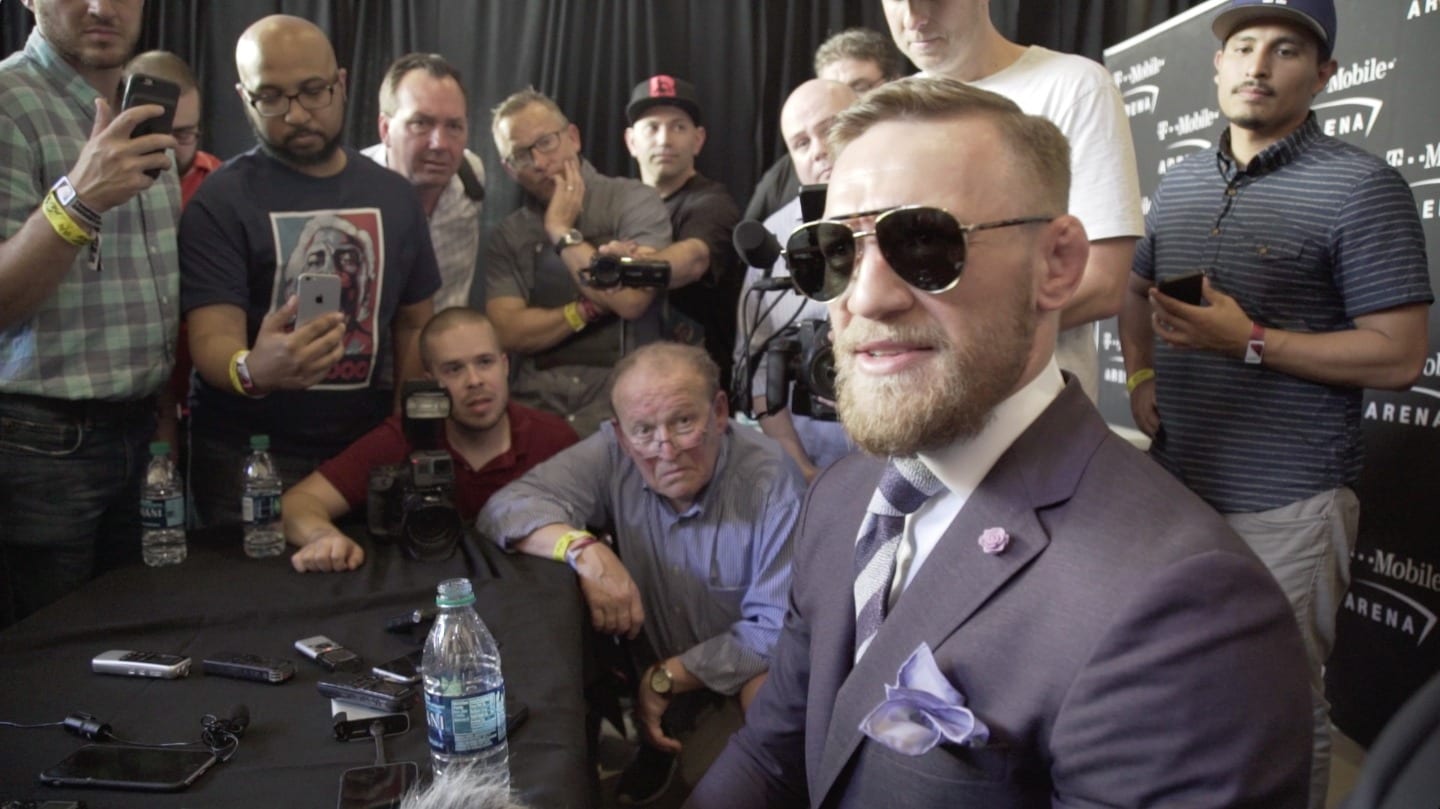 Conor McGregor is no stranger to an out-the-ring confrontation, but today in Las Vegas the UFC champion managed to cram in two in the space of about twenty minutes.
First, McGregor and his team arrived just as Floyd Mayweather's regular company was leaving, causing a back and forth shoving match. While there were no blows thrown, it felt as if something was on the verge of happening, almost as a call back to Brooklyn on the World Tour.
According to McGregor, who spoke to media following the altercation, the issue almost stemmed from poor management by Showtime and bad timing.
"On the way [I was told] there's a face off," McGregor said. "Then there's no face off. Then I seen him and I said 'are you afraid of a face off today?' and then he didn't say anything. He started mouthing at me, and then the goons. The little goons — well, the big goons — that he surrounds himself with, started pushing and shoving. Then it was a pushing and shoving contest and that's it.
"He can't walk around the place without being surrounded by these donkeys. That's what they are, absolute donkeys. Look, he's in the ring on his own. I know in his comments, he was watching some tape and made comments saying 'I hope the referee keeps it fair'. All I saw were prayers: 'please ref, keep me safe'. I'll bang him, I'll hurt him badly, and I may make him beg me to follow the rules here."
If that wasn't enough raucous activity for one day, McGregor's former sparring partner Paulie Malignaggi was also in attendance. The two hadn't seen each other since Malignaggi left McGregor's training camp under less than amicable circumstances, following some footage emerging of McGregor knocking the former boxing champion down.
Once again McGregor had no qualms in approaching his newly found rival.
"I just seen him lurking around," McGregor said. "And he starts talking to my manager Audie. And I walked over, and he was still talking to Audie, he wouldn't look [at me]. I asked him 'what is wrong with you? What's up with you, mate?'. He started talking about the picture and all, I said 'mate, get over it.' It looked stupid. You got your ass whooped, get over it. Whatever, leave him to it.
"I still don't mind Paulie, even after all this," McGregor added. "The situation was the knockdown. That was the thing right? I sent it out! There you go! There's the fucking knockdown! It's an amusing part to the story, because he ain't doing fuck all. Floyd ain't doing fuck all. It's been me that's been pumping everything out here."
Comments
comments