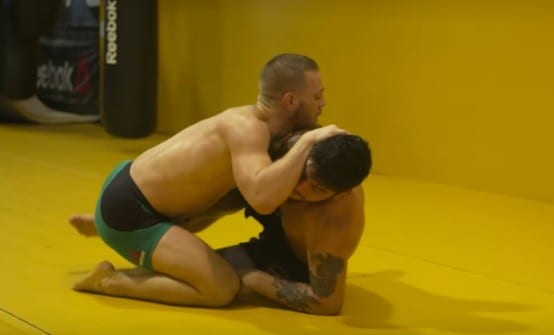 For someone who appears to be at the top of his game, Conor McGregor has certainly come in for a lot of criticism from various sections of the martial arts world since debuting in the UFC in 2013.
McGregor's emergence and subsequent rise through the UFC's featherweight division signposted him as a target for his rivals, with each opponent claiming they would be the one to 'expose' the Dubliner.
This concept hasn't been lost on McGregor.
"The grappling community say I can't grapple. But that's not just the grappling community, the boxing community says I can't box. The kickboxing community say I can't kick. The wrestling community say I can't wrestle. Well, I say to all of them communities let's fight, [and they say] 'oh no, no, only under this specific rule set'. Well there you go. I don't need rules."
"I truly love jiu-jitsu. I think jiu-jitsu… my coach John Kavanagh has put so much time into my grappling and into everyone's grappling around the gym, so when they say what they say, I don't like it. I feel I do have something to prove, to my coach. I would like to get in and win some Jiu-Jitsu tournaments. Number one is the fun. It's a hell of a lot of fun."
John Kavanagh is McGregor's long-term Jiu-Jitsu coach and has worked to develop the Dubliner's ground game since the first day he walked into his gym. More recently, and under Kavanagh's stewardship, McGregor has been training with high-level training partners like Dillon Danis – a black belt under famed BJJ player Marcelo Garcia.
While McGregor has a date set with Eddie Alvarez in New York next month, he hasn't ruled out competing in jiu-jitsu tournaments in future.
"They're a hell of a lot of fun. You meet great people, big crowds. I'd love to do it, maybe somewhere in the future I'll compete, right now I've got a hell of a lot on my plate."
Comments
comments