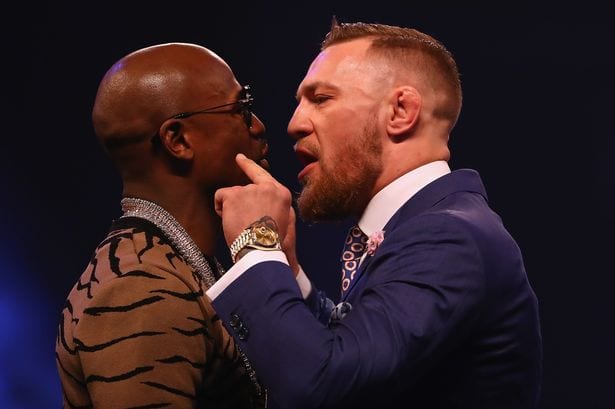 Now that the finer points of glove size are arranged, as well as the announcement of the fight officials who will preside over his fight with Floyd Mayweather on August 26th, Conor McGregor knows the full extent of the task that awaits him in a little over a week's time and as you might expect, the Irishman remains confident that the combat sports world will be turned on its head when the first bell rings inside the T-Mobile Arena. 
At a hearing in Las Vegas yesterday, the Nevada Athletic Commission voted unanimously to mandate the use of 8-oz gloves instead of the usual 1o-oz requirement for bouts taking place at 154-pounds — a move that both camps were in favour of — and with this added development, McGregor has accelerated his prediction of victory to a knockout victory within the first two rounds.
Speaking to the press at Wednesday's official media call, McGregor said: "I don't believe with the new gloves he makes it out of the second round.
"Part of me kind of wants to show some skill and dismantle him but I do not see him absorbing the blows.
"I am ready to go to war for 12 rounds and I am also ready to put him away in seconds," McGregor added. "There is no way in hell I am not prepared to fight in the deepest of trenches."
McGregor, who has developed a personalised fitness program, says that the seemingly endless conditioning work he has been undergoing lately will stand him in good stead on Aug. 26th, pointing at the "scary" training sessions inside a 13,000 ft altitude chamber — a move which McGregor says has left him in "absolutely amazing" shape.
The UFC lightweight champion also had some comments for a boxing community who are dismissing his chances ahead of what will be one of the biggest combat sports events in history.
"It's certainly motivating – the disrespect and disregard for my skillset," McGregor added. "I look at people sometimes and their mind is closed. Fighting is a complex game. I use it as motivation and I look forward to going in and educating the world on what martial arts is."
Comments
comments