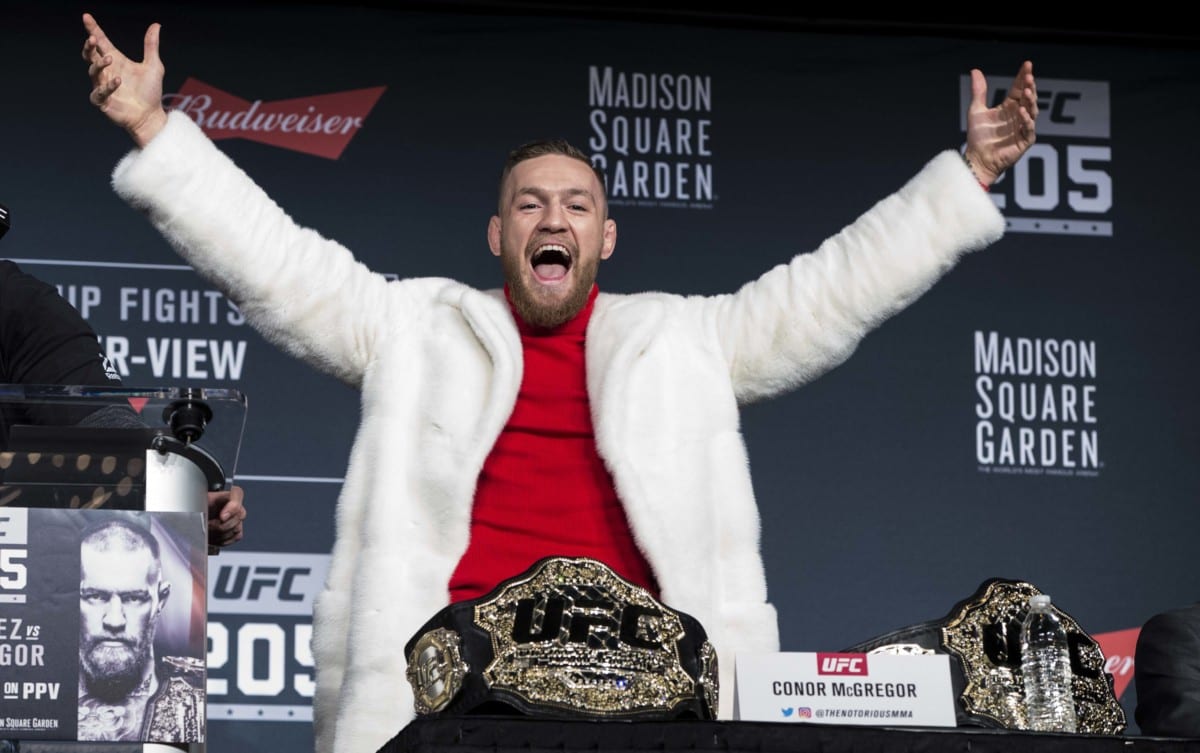 Mystic Mac has had his say about Eddie Alvarez.
When you possess the sort of power that Conor McGregor has, it gives you an idea of exactly what it can do to your opponents when wielded correctly. And throughout his career, few fighters have had as concussive a fighting record as the Irishman.
McGregor will attempt to make history this Saturday when he faces UFC lightweight champion Eddie Alvarez in the main event of the first ever mixed martial arts event to take place inside the world's most famous arena. But whether it's in front of more than 20,000 people in the city that never sleeps or the few hundred he used to fight in front of in small halls in Dublin, he says the result will be exactly the same.
"I predict I rearrange his face", McGregor said during the UFC 205 press conference. "He's too easily hit. Through all the talk and through everything else, he can be hit too easily. It's happened to him his whole career. When you're talking about someone with the precision I have, I'm going to hit him and he's going to fall. Maybe if his toughness holds up he will survive but then his face will be rearranged. That's what I predict.
"I feel he's damaged goods. I mean, in his career he has been damaged big time. He has aged, he looks a bit gaunt. At the end of the day we go in there and fight and the shots will land if he's feeling good or he's feeling bad. My shots do damage and that's it."
Throughout the build-up to this fight Alvarez has criticised McGregor's cardio, saying that he if the fight goes into deep waters it favours him. However, this is a point of contention for McGregor. Since the first bout with Nate Diaz last March, McGregor has adopted a training regime which harnesses an array of the latest in sports science.
Preparation which, McGregor says, will prove his opponent wrong this weekend.
"All these fights are learning experiences for me. I'm very happy Rafael Dos Anjos pussied out of the first one, I would have knocked him clean out like I said. I'm very happy that I was taken on that detour with Diaz. I got to learn about myself. I got to evolve and go to that next level of my training and my mental belief. Here were are now as a new version of myself once again.
"I hope it is five rounds because they've discussed the cardio as an advantage on his side and I completely disagree on that. If he can make it into the trenches we'll go there and we'll see."
In headlining the biggest card in the history of the sport inside an arena which has felt the blood and sweat of some of the biggest names in the history of combat sport, McGregor will add his name to the storied history of Madison Square Garden this weekend – an aspiration only a select number of fighters will achieve in their careers.
"I'm trying to live in the moment right now. This is such a historic event, so much going on in the city. So much buzz. I'm just trying to enjoy it and embrace it. I'll get the second world title, raise them up consecutively, enjoy the moment and we'll go from there.
"I've been training, shopping, just living my life preparing for another contest. This is what I do. It's The Mac Life."
Image: Dave Fogarty
Comments
comments