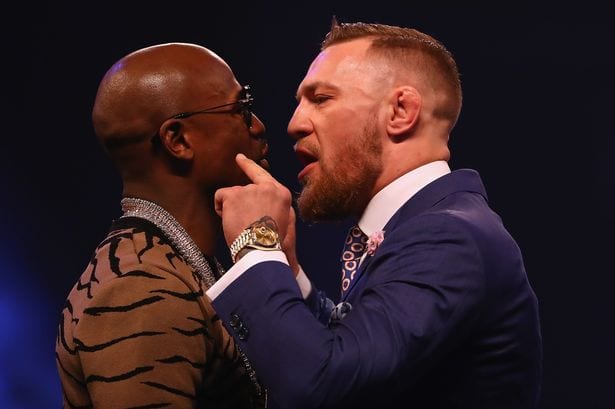 It seems that professional rivalry takes a while longer to die than you might have thought. Some four months after they met in a boxing ring, Conor McGregor and Floyd Mayweather are back to trading verbal barbs on their social media.
It started fairly randomly. Earlier today, as McGregor was given an award by Richard Branson in Ireland, Mayweather posted a statement alluding to rumours of a McGregor altercation in a Dublin pub. Quite what inspired the boxer to do such a thing is unknown, but it took less than an hour for the Irishman to fire back.
I am the cartel.

— Conor McGregor (@TheNotoriousMMA) January 10, 2018
After that, Mayweather used an image of the duo's boxing bout to mock McGregor, captioning it 'you violate and I will demonstrate'. Once again, McGregor didn't take long to respond — although his version was far more to the point than Mayweathers.
McGregor is believed to be in negotiations with the UFC for a return to the Octagon. While it's not confirmed, he is believed to be meeting UFC interim lightweight champion Tony Ferguson upon his comeback. Of course, while McGregor has noted he doesn't believe Mayweather would face him again, he's made no secret that he'd like a second attempt at defeating the undefeated boxer.
For a moment last month, it even seemed (albeit very briefly) that the two could meet again under a different set of rules, with UFC president Dana White suggesting he was in talks with Mayweather to bring him into the UFC, before Mayweather categorically ruled out fighting in mixed martial arts.
Comments
comments