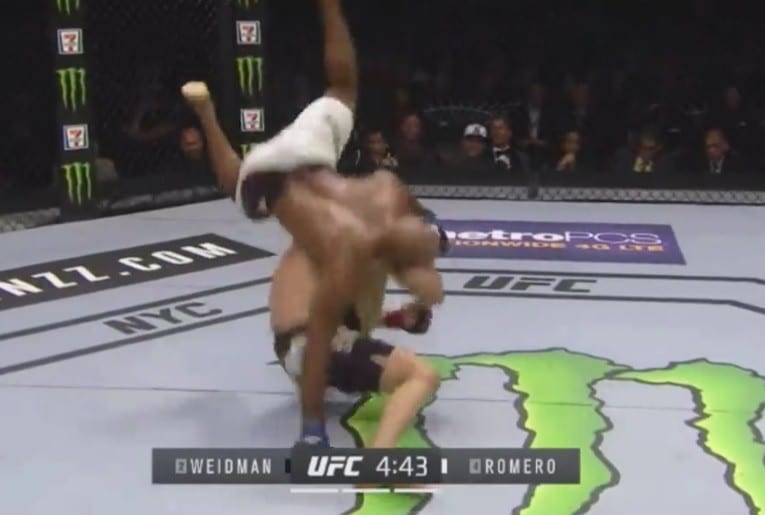 For some fighters, the after effects of from UFC 205 will continue for another while yet.
Several fighters, most notably Chris Weidman who suffered a brutal flying knee knockout loss to Yoel Romero which left a huge gash above his left eyebrow, have been issued with medical suspensions by the New York State Athletic Association on the back of damage sustained during last weekend's event in New York City.
Weidman, the former Middleweight champion, has been suspended for a minimum of 60 days before he can compete again.
Eddie Alvarez, who lost his UFC Lightweight title to Conor McGregor in the main event of UFC 205, has been handed a 30 day no-compete suspension.
Both Alvarez and Weidman will have to be cleared by the NYSAC before they can compete again.
The same 30 days suspension has been handed out to several fighters on the main card, also including Stephen Thompson, Karolina Kowalkiewicz and Joanna Jedrzeczyk.
The full list of UFC 205 medical suspensions can be seen below.
Vicente Luque suspended indefinitely pending New York State Athletic Commission clearance
Chris Weidman suspended a minimum 60 days pending New York State Athletic Commission clearance
Belal Muhammad suspended a minimum 60 days pending New York State Athletic Commission clearance
Rafael Natal suspended a minimum 60 days pending New York State Athletic Commission clearance
Eddie Alvarez suspended a minimum 30 days pending New York State Athletic Commission clearance
Stephen Thompson suspended a minimum 30 days pending New York State Athletic Commission clearance
Joanna Jedrzczyk suspended 30 days
Karolina Kowalkiewicz suspended 30 days
Meisha Tate suspended a minimum 30 days pending New York State Athletic Commission clearance
Michael Johnson suspended 30 days
Jim Miller suspended a minimum 30 days pending New York State Athletic Commission clearance
Liz Carmouche suspended a minimum 30 days pending New York State Athletic Commission clearance
Comments
comments