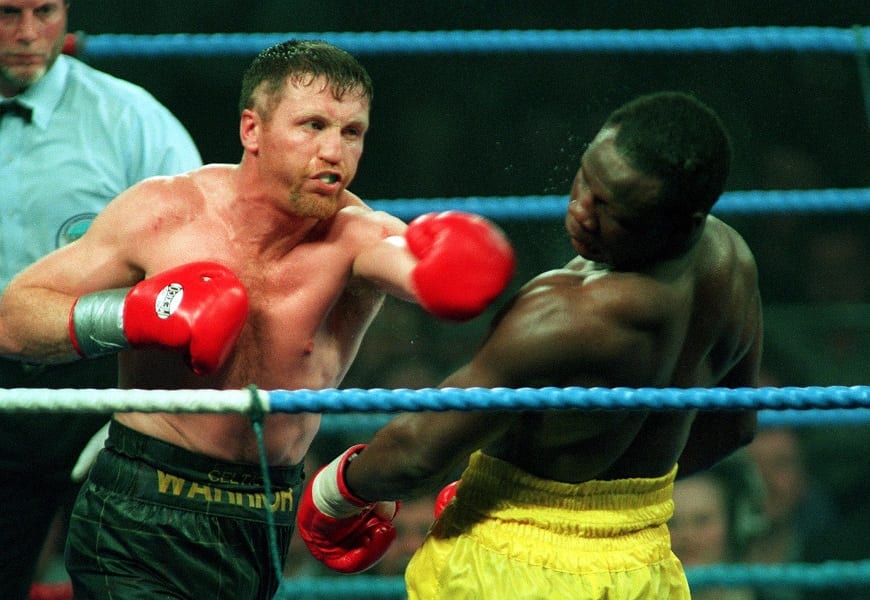 In March 1995, a day after St. Patrick's Day, the then-undefeated WBO Super Middleweight champion Chris Eubank traveled to Ireland for what was considered by many to be just another defense of the title he had held for more than four years. In 43 professional bouts, no one had defeated the Englishman. In fact, practically no one (with notable exceptions of Michael Watson and Nigel Benn) had even come close. 
But that was all about to change when Eubank stepped into the ring with the unheralded Irishman Steve Collins that night in Co. Cork, a place known to the Irish as the 'Rebel County'.
Dubliner Collins was considered to be as gritty a fighter as there was in the super middleweight title picture. A durable, aggressive fighter, Collins had acquired a 28-3 record prior to the Eubank bout being made official. Ahead of what was without question the biggest contest of his professional career, you wouldn't have found many boxing pundits who fancied Collins' chances. Grit and stubbornness is no match for Eubank's class, they said. After all, he was undefeated in 18 consecutive world title fights. This was seen as just another payday for the champion.
Twelve rounds later, Steve Collins was the WBO Super Middleweight champion of the world.
The narrative as to how this particular series of events came to be has become part of boxing lore, particularly in Ireland. Eubank was seen by his fans and detractors alike as being one of the finest purveyors of the 'sweet science' as there is. He was a remarkably quick athlete, capable of uncorking piston-like blows from either hand all the while employing an agility of movement which meant he was rarely there when fire was returned. In addition to that, Eubank's eccentric upper class personality isolated him from the more working class communities from which a large swathe of boxing fans originate — but in Steve Collins, they found a hero of their own.
Do not write off Conor McGregor, says former WBO middleweight champion Steve Collins… #MayweatherMcGregor pic.twitter.com/Ow71wn5B3d

— Alan Brazil (@SportsBreakfast) June 16, 2017
Still though, as much support as Collins had it was difficult to dispute that he was facing the biggest challenge of his fighting life in Chris Eubank. That pendulum, however, was about to swing in the direction of Collins after what many have described as a masterstroke of mind games in advance of the bout.
The day before the before the blows would begin, Collins and Eubank came face to face backstage as the weigh-ins. Approaching the champion, Collins told him repeatedly that he was about to lose his title. "I told him, 'I'm the new champ, I'm going to win'. He looked at me like I had ten heads and I just kept telling him that I was going to win. I said it so many times that it became a mantra—I looked like a lunatic," Collins later said in an interview with Vice.
"He backed off a bit and I could see that I had scared him. Someone said to me 'what's going on here', and I told him that I had been hypnotized and that I had a hypnotist with me in the room. I could see him react to that immediately, he wasn't comfortable with it at all.
"I had Tony Quinn with me, a very clever man, he's a bit of genius this guy. He said to everyone in that room that he had hypnotized me. When he said that, the most interested person in the room was Eubank."
The move appeared to spook Eubank, who believed that Collins had been 'programmed' to not feel pain. Clearly rattled, he spoke to Sky Sports before the fight. "That's why I'm afraid," the world champion said. "That's why I wanted to call the fight off. That's why I would call the fight off if I could now because I'm going into unknown territory.
"The 43 fights I've had in the past I've always known what I was dealing with. I don't know what I'm dealing with tonight. I'm fighting someone who's mechanically orientated and that is just an unknown area. It's not fair that I should be put into this situation."
Keeping true to the narrative, Collins walked to the ring listening to headphones (purportedly deepening the hypnosis he was under) and sat motionless, still apparently listening to his hypnotist guru, while Eubank made his own walk further out-psyching the champion.
Collins won the fight via decision in a massive upset and did it once more in a rematch six months later, going on to retire as world champion with a 36-3 record after years of unsuccessfully attempting to negotiate a bout with Roy Jones Jr.
Nowadays Eubank, long since retired, serves as trainer to his son Chris Eubank Jr. who is beginning to look like he has the makings of making a respectable run in the Super Middleweight division his father once ruled. Furthermore, Eubank Sr. holds a keen interest in the Aug. 26th bout between Conor McGregor and Floyd Mayweather, noting the several overlaps between this bout and his first battle with Steve Collins two decades ago.
Speaking of the bout between two champions of their respective sports, Eubank said: "What everyone is missing, what they're not thinking about, what is so obvious — everyone is forgetting that he is an Irishman. They are a special people. I'm not bumping them up — I'm not Irish. I'm just saying my observations of the spirit of this people, they are amazing.
"I'm not talking about Conor McGregor. I'm not talking about an MMA fighter. I'm talking about an Irishman and an Irishman is always to be respected and that is where it is likely, it is possible, that Mayweather Jr. has taken his eye off the target.
"What is he fighting? You're not fighting an MMA fighter, you're not fighting a guy who is maybe limited in traditional boxing. You're fighting an Irishman and that is enough. How do I know? I lived this."
Comments
comments