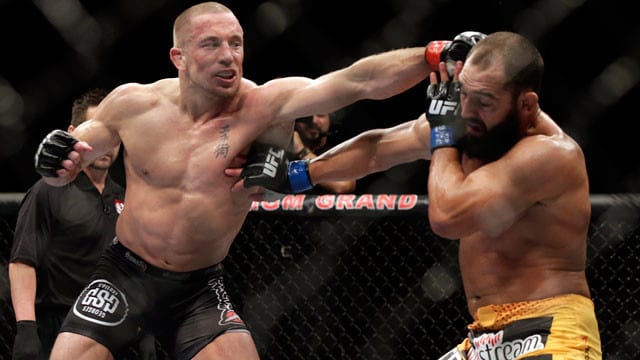 Georges St-Pierre is, by a wide margin, the biggest name in Canadian MMA. The former UFC welterweight champion announced his return to the sport earlier this year after taking a hiatus and relinquishing his title in 2013. The comeback, though, hasn't gone as he had planned.
UFC president Dana White repeatedly nixed ideas of a GSP return, saying that the Canadian superstar didn't want to fight — statements which were roundly rebuked by GSP himself. Speculation linked St-Pierre with a headline slot on the UFC 207 card in Toronto, with UFC.com listing the main event as 'TBA vs TBA' with Daniel Cormier vs. Anthony Johnson as the event's co-main.
Then, on an interview with Ariel Helwani on the MMA Hour last week, St-Pierre announced he had left the UFC, a move which the UFC denied and maintained he is still under contract.
The situation has taken another turn. UFC fans in Toronto have begun calling for a boycott of the card, unless St-Pierre is added. The hashtag #boycottufc206 is gaining steam on Twitter.
GSP doesn't deserve this since he's done so much for MMA-do what's right for the fans @danawhite @ufc #BoycottUFC206 #FreeGSP @Firas_Zahabi

— Chris Ralph (@ChrisRalphNL) October 24, 2016
#boycottufc206 #freegsp @GeorgesStPierre @danawhite let him fight or let him go DW! Not a dime from Canada!

— Azamat Bagatov (@AzamatBagatov69) October 24, 2016
The Ufc hasn't come to Toronto in over 3 years and when they finally do they don't give us the fights we want #BOYCOTTUFC206 #FREEGSP

— JAyThaGhost (@JayHernandez3) October 24, 2016
It's clear to see that the dispute between Georges St-Pierre and the UFC spreads beyond just those two parties, with fans now getting involved to call for the UFC to come to terms with St-Pierre.
Part of the reason, according to GSP, that the UFC were hesitant to agree to his demands was that they would have to invest significantly to 'remind' UFC fans who St-Pierre was, given that he had been away from the sport for three years.
The reaction to the dispute on Twitter suggests otherwise.
UFC 206 takes place in Toronto on December 10th.
Comments
comments