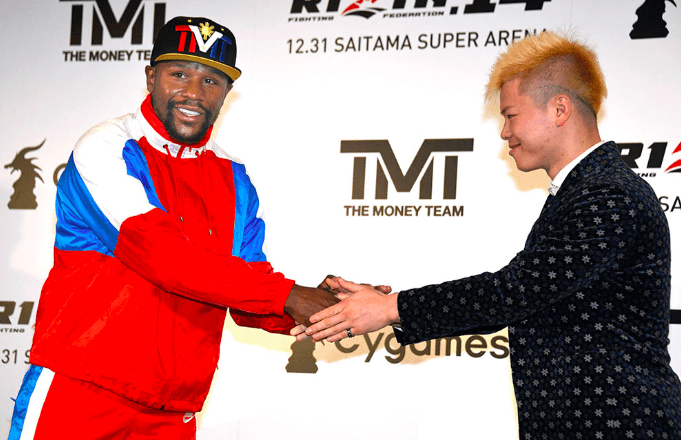 While RIZIN and Floyd Mayweather are keeping their cards very close to their chest when it comes to the ruleset that the December 31 bout between Mayweather and undefeated 20-year-old kickboxing and MMA sensation Tenshin Nasukawa, the American boxer has been talking up his mixed martial arts skills ahead of the fight.
Mayweather, who has ended his second retirement to fight the Japanese superstar in what will be his first professional bout outside of the United States, has openly flirted with a move to mixed martial arts but many observers considered that nothing more than a statement to garner column inches online.
And while it will be especially noteworthy if Mayweather agrees to any rule changes from those under which he has contested his career thus far, he has spoken about the mixed martial arts skills as they stand today.
"I can wrestle a little bit, I can box a lot-a-bit, and we'll just see, I can do it all. I can do anything if I set my mind to it," he said in Japan after revealing the Nasukawa bout.
"I'll speak with my team, but I'm pretty sure we're going to be on the same page. One thing we have to do, we have to have rules. There's rules and regulations to everything we do in life, so I'm pretty sure once I speak to the guys from my team, we'll all going to get on the same page."
However, Mayweather proved unwilling to get into the why he decided to accept this particular bout, evading the question in spectacular fashion.
"Everything's about timing, it takes time and everything's about timing, and it's all about entertainment," he said. "I love to entertain, and I love for people to be entertained, and who don't' want to be entertained?
"So, it's good to come over to another part of the world, have fun and enjoy myself."
Comments
comments