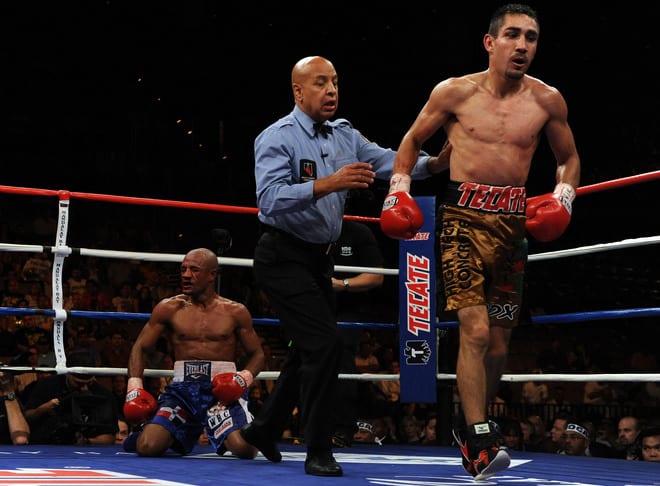 Joe Cortez has been the third man in the ring for some of the biggest bouts in boxing history.
He has officiated over 170 world title bouts, taking in fights from George Foreman to Mike Tyson and Oscar De La Hoya (to name just a handful) and while he has been retired from active duty for five years, his knowledge of what goes on in the squared circle is second to none.
The 73-year-old was brought into Conor McGregor's training camp in Las Vegas to oversee the Irishman's sparring sessions to help negotiate McGregor's transition to boxing rules and Cortez was full of praise for the UFC champion's work ethic ahead of the Aug. 26th clash with Floyd Mayweather.
In an interview with On The Ropes, Cortez said of McGregor: "August 26th is going to be a big fight here in Las Vegas and the whole world is going to be watching it. It will be one of the biggest pay-per-views in the history of any sport and I'm glad to be part of it in the sense that I'm teaching McGregor how to fight boxing instead of MMA.
I'm teaching him the boxing rules, I'm not teaching him to fight, just teaching him the rules. I was hired to teach him the unified rules to make sure he doesn't commit any fouls. I don't want to see him disqualified or have any point deductions during the fight."
As for how McGregor is adapting to the new rule set, Cortez says that his preparation has left no stone unturned.
"He's an excellent student, he's learning real quick. Everything I'm teaching him, he's learning. This is the biggest fight for him and these guys are making over 100 million dollars a piece. They better abide by the rules and listen to what I'm telling them because we want a good clean fight.
" I think McGregor brings a lot to the sport. He can punch, he's a super champion in MMA, he has a lot of talent. Anybody that can punch can be dangerous.
"If you have a punch, you have a chance too. Anybody that has a punch has a chance because anything is possible. You've seen some of the great champions get knocked out in boxing and it can happen because McGregor is a puncher. McGregor is quick with his punches, he hits hard, so anything is possible."
Comments
comments