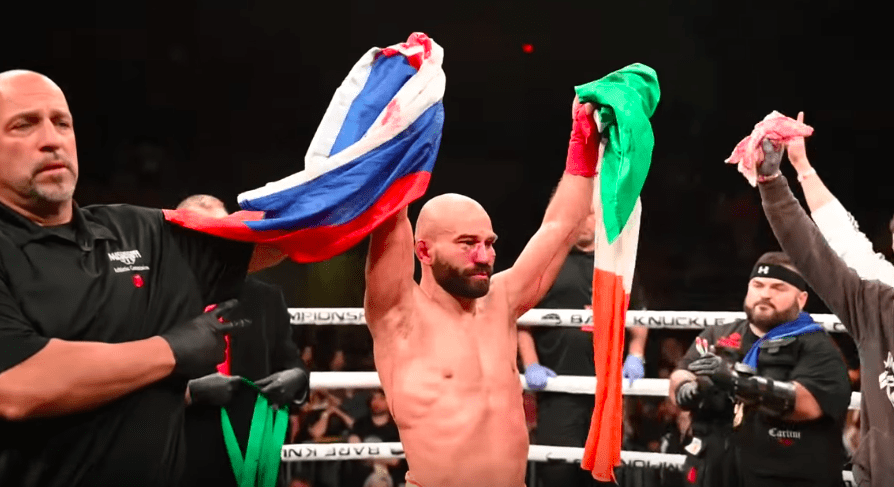 If Bare Knuckle FC needed a springboard with which to bring their product to a wider audience, they couldn't have hoped for much more than last night.
In the main event of Bare Knuckle FC 5, 'The Russian Hammer' Artem Lobov and hometown favourite Jason Knight traded knuckles for five two-minute rounds in what was a wild back and forth brawl, leaving both fighters a crimson mess and Knight in particular need of the services of an orthodontist.
As promised, neither fighter took a backward step throughout five rounds of action with both fighters having their moments and testing the other's chin at various points throughout the incredibly high-paced fight. Lobov's superior movement caused trouble for Knight who, after catching Lobov cold early, found it increasingly difficult to land telling blows on SBG Ireland man.
Lobov began to underline his supremacy as the fight's narrative wore on, landing the heavier blows and robbing Knight of his equilibrium with a clubbing blow midway through the fight.
In the end it was Lobov who had his hand raised after knocking his opponent to the canvas on three separate occasions and landed some significant blows to a very game Knight. Further to that, though, the BKFC 5 main event appeared to serve as the organisation's 'coming out' party as word, clips and pictures of what will go down as — to this point at least — the best fight in the company's history filtered out on social media.
And the reaction was, as you might expect, effusive.
Any plaster lads??? pic.twitter.com/JnivAMyMUy

— Artem Lobov (@RusHammerMMA) April 7, 2019
I still look good! Respect to @RusHammerMMA He went to ICU after a war on PPV @bareknucklefc!! pic.twitter.com/8t4v6rqrzW

— Jason TheKid Knight (@Jasonthekid23) April 7, 2019
Bare Knuckle Fighting Championships just put on 1 of the best events ever!

— Anthony Johnson (@Anthony_Rumble) April 7, 2019
Artem vs Paulie on June 22. That will be a milestone fight for the promotion. Knight vs Lobov could turn into a Griffin/Bonnar moment. They should put it up for free in a couple of weeks and let ppl share the hell out of it with ads for June 22 #BKFC5

— Ty Reynolds (@MMAtylander) April 7, 2019
ARTEM JUST KNOCKED OUT ALL OF JASON KNIGHTS BOTTOM TEETH. I DIDNT KNOW THE TOOTH FAIRY WAS A GOAT. #BKFC5

— MacMally🍀 (@MacMallyMMA) April 7, 2019
Artem Lobov and Jason Knight just put on the most ridiculous bloodbath of a bare-knuckle fight. #BKFC5

— Mike Bohn (@MikeBohnMMA) April 7, 2019
Artem Lobov def. Jason Knight via UD in his BKFC debut. ''Twas a bloody, brutal affair. Next up for Lobov? A showdown with Paulie Malignaggi.

— Ariel Helwani (@arielhelwani) April 7, 2019
So is he gonna give Jason Knight and Artem Lobov a bonus. Because that was the fight of the year!! Best fight he could've ever asked for!!

— Koach Whit (@mrcswhit4) April 7, 2019
Artem Lobov just knocked Jason Knight's tooth out.

— Oscar Willis (@oscarswillis) April 7, 2019
They just called Lobov/Knight "arguably" the most important bareknuckle fight since 1882.

Artem Lobov breaking skulls and barriers. pic.twitter.com/OjlFDa8nlL

— Mike Skytte (@MikeLovesTacosX) April 7, 2019
Joke all you want but Artem Lobov turns up every time to put on a show and as a fight fan you gotta respect the fuck out of that.

— beans (@simonbeans_) April 7, 2019
Huge congrats to The Russian Hammer @RusHammerMMA , what a fight! Hats off to Jason Knight taking those shots and never backing down 👊🏼👊🏼

— Coach Kavanagh (@John_Kavanagh) April 7, 2019
Damn @Jasonthekid23 you're one tough kid 😳 #BareKnuckleFC

— Cub Swanson (@CubSwanson) April 7, 2019
–
Comments
comments