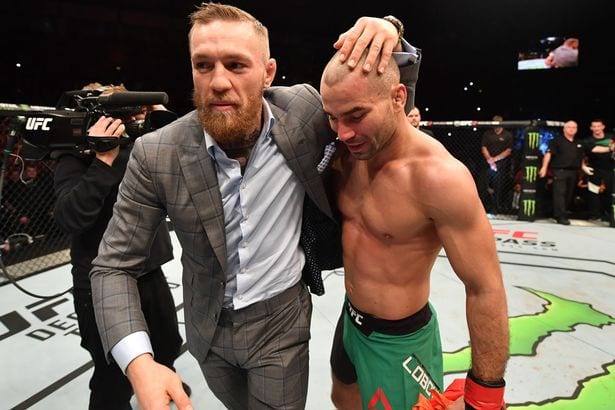 Conor McGregor's fight with Floyd Mayweather is a big deal, not just for the Irishman himself, but for the entirety of the SBG team. 
So much so, that his long time teammate Artem Lobov is prepared to put his own career on hold while preparations for the fight takes place.
"I was offered a fight with Andre Fili," Lobov said, speaking with MMAjunkie. "He was calling me out on Twitter. I would've taken the fight, but it's just too hard for me to commit to something on July 29. I'm needed in this camp. It would've been too much of a risk for me.
"Let's be honest: I don't give a (expletive) about Andre Fili. I could fight that guy any day of the week. Once this fight is out of the way, and Conor knocks out Mayweather and has the world at his feet, we can see what's going to happen then.
"Conor got into the UFC. We all helped him to get there, and then he pulled everybody up there with him. I owe it to him to help him in any way I can."
Instead of stepping into the cage himself, Lobov will be spending his time sparring and working with McGregor to get the UFC lightweight champion into shape ahead of one of the biggest fights of all time. While some might figure McGregor would completely change the nature of his fight camp, according to Lobov he'll be using the same coaches and team that helped him become a two weight world champion. It has, after all, worked well so far.
"If you look at it, they said the same things about getting specific training partners before the Jose Aldo fight," Lobov said. "They said the same for the [Eddie] Alvarez fight, too. They even said the same for the Dustin Poirier fight and for all of the other fights. Look at how those fights ended.
"[Conor] had no issues with sparring partners then. I was his sparring partner then and it was just fine. Obviously, this is boxing and it's a slightly different game. We understand that and there are sparring partners lined up. We will leave no stone unturned in this camp. Everything is going to be taken care of. The preparation is going to be 100 percent on point."
"I know John Kavanagh is going to be involved," Lobov said. "Owen Roddy will be involved, too. This is the team that we prepare with for every fight, and it will be no different for this fight. This has been the team from the start. This is the dream team, and it's staying that way. Of course, if we feel that there are some areas where we are lacking knowledge or expertise, we will bring in people."
Comments
comments