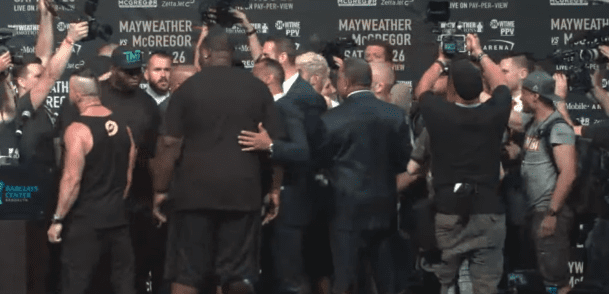 In New York, the media tour with Conor McGregor and Floyd Mayweather took an interesting — if intense — turn.
While up to now, with both men throwing plenty of insults at each other, nothing has suggested anything could become physical between the two. Last night in Brooklyn, however, it came very close to the line.
At one point, Mayweather bellowed 'form voltron' to his entourage, who immediately marched across the stage to swarm McGregor, in what looked like an attempt to intimidate the Irishman. Before they reached their target, however, McGregor's longtime teammates Owen Roddy, Artem Lobov and Dillon Danis leapt into action, pushing Mayweather's crew back and getting into a verbal altercation.
Unsurprisingly, in the wake of the event, Team McGregor were emphatically unimpressed.
"He's the one supposed to be fighting Conor, so why the fuck does he need his Jersey Shore fucking rejects over there?" Lobov said, speaking with MMAFighting. "That shows you fear. He didn't want to come up to Conor and go face-to-face, he says 'come here' and let them go up there.
"That's all good. We don't mind, We're ready to go if need be."
It was the first time that Lobov & company have been forced to intervene, after a combative start to proceedings. When the entire media tour kicked off, McGregor's teammates weren't allowed to get onto the stage, with security blocking them off (while not doing the same for Mayweather's acquaintances).
After that happened on day one, Lobov and Roddy made a point to get on stage every time — regardless how they do so.
"They tried to block us off every time, but we don't give a fuck anymore, we just walk up there," Lobov said. "There was supposed to be some wristbands and they tried to not give it away, they said 'only three people are allowed on the stage', so they were only going to give us three wristbands. But who needs wristbands, try and stop us. We're going up on that stage, and that's it."
—
Comments
comments