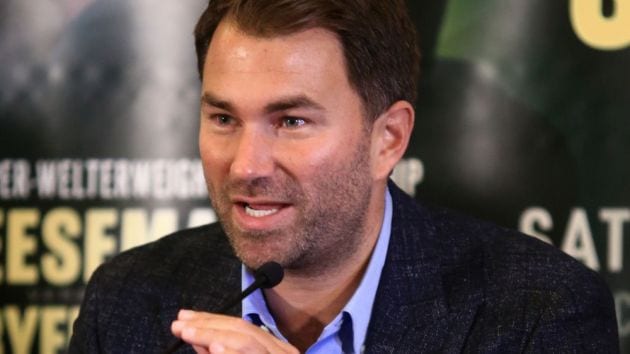 Anthony Joshua's fight with Jarrell "Big Baby" Miller is cancelled, and Joshua's promoter Eddie Hearn is not happy about it.
Miller was set to fight for Joshua's boxing world titles on June 1 in Madison Square Garden, only for him to fail three separate VADA drugs test for three separate banned substances (Endurabol, HGH and EPO). While Miller initially denied knowingly taking the performance enhancers, yesterday he published a video statement acknowledging he'd attempted to cheat.
Unsurprisingly, Hearn has some choice words for the contender.
"I'll be honest with you, it is fucking unbelievable," Hearn said, speaking with IFLTV. "I mean, the first one.. I know Jarrell Miller well. I've given him quite a few opportunities. Don't get me wrong, he's been worth it all the way, but what he has done to be quite honest with you, is absolutely disgusting.
"I always hope, and I always want to give athletes the benefit of the doubt to say, okay, you took something or someone gave you something to take. You didn't know what you were taking. But you know what the absolute liberty about all of this is? How he, after he failed that test on Monday, text me to say, 'I swear I have not taken anything. This is sabotage, this is the system against me'. Fuck off.
"It makes me sick. Sick. That someone would go to those lengths in a fight. People have died in the ring. … This guy has tried to get such an edge, and it's not just an edge of a little something, this is the whole hog. This is a man that is so possessed to get an edge over Anthony Joshua in a fight that could have — who knows what could have happened. … All because the man wasn't big enough, weren't brave enough to do it right. To do it as a sport. He had to cheat. He had to cheat the system. You must have been so afraid of this fight. You must have been so afraid of Anthony Joshua that you have to get this edge. I am absolutely disgusted."
For Hearn, who will now search for a new opponent to meet Joshua in the boxer's United States debut, it's not just the act of taking the banned substances, but it's the act of taking drugs knowing you're set to inflict physical harm on your opponent. And, with this Miller case in particular, it's the fact the boxer had originally tried to deny any wrongdoing.
"He wasn't going to admit it," Hearn said. "This is the thing that's eating me up more than anything. This is why it's in my head so much. Because I've believed people who've told me that in the past. … If he's prepared to go out there — like what would he have done? He would have fucking swore on The Bible, he'd have sworn on his kids life. Everything. … It has to be the worst case of drugs results [in boxing] at this level of all time."
Plus, Hearn says, Miller had accepted to be signed up to regular random tests by VADA throughout the lead up to his fight with Joshua — meaning he knew he would be tested and still elected to take the substances — which is something that confuses and rankles the promoter even more.
"I believed him because he signed up for VADA testing," Hearn said. "So I knew he knew that he was going to get tested, so I just thought he weren't that stupid. He wouldn't do that. But then.. HGH and EPO? Are you fucking serious? And you know they're coming? So what worries me more is, if people know they're coming and they're doing that? What the fuck are they doing when they know they're not coming?"
Comments
comments