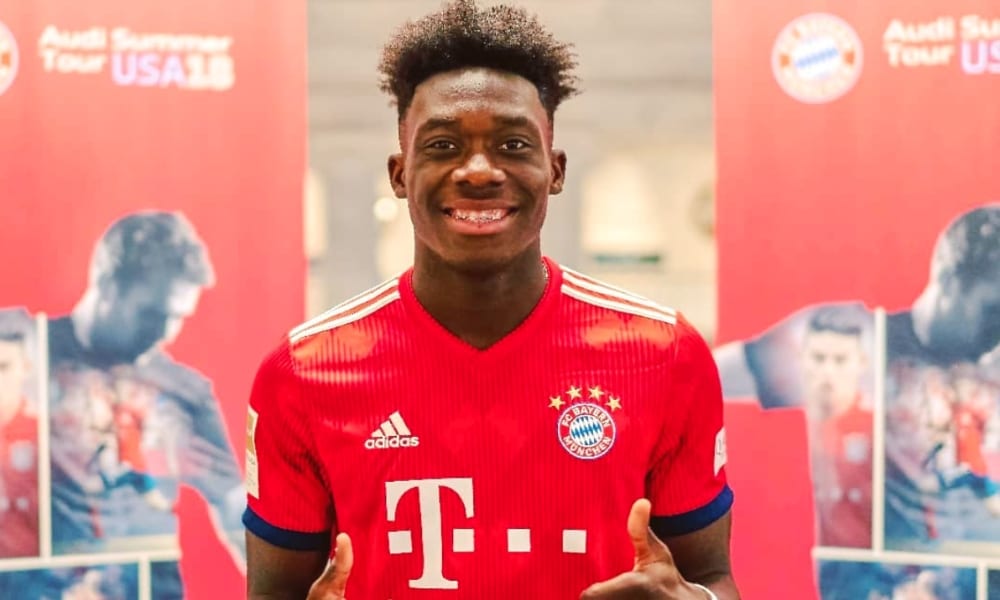 Teenage star Alphonso Davies has signed for Bayern Munich for a deal worth up to $22million, breaking MLS records in the process.
Davies, the shining young star of Major League Soccer side Vancouver Whitecaps, will move to the Bundesliga giants in January at the conclusion of the MLS season.
The Canadian starlet was born in Ghana, but moved to Canada with his family as refugees.
The youngster fell in love with soccer and eventually joined the Whitecaps as a 14-year-old then, after gaining Canadian citizenship, he became Canada's youngest-ever international player when he made his debut as a 16-year-old.
Still only 17, Davies' performances for the Whitecaps alerted Bayern's scouts, who kept tabs on the young star.
And now the Munich side have their move, signing the teenager on a five year deal, which will cost them an initial $13million, rising to $22million.
The $13million figure makes Davies the most expensive export in Major League Soccer history, beating the $11.6million paid to New York Red Bulls by Villarreal for US international striker Jozy Altidore back in 2008.
"As a kid, I always dreamed of a moment like this," said an excited Davies.
"Now that the dream has come true, the work continues, as always."
Whitecaps co-owner Jeff Mallett paid tribute to his soon-to-be departing teenage star, saying: "This is a landmark transfer for our club, country, and league.
"Alphonso is an inspirational example of what is possible, and we are excited about how this transfer showcases our commitment to homegrown players for our club and country."
And Bayern's sporting director Hasan Salihamidzic told the club's official website that the club had secured the signings of one of the most exciting teenage talents in the game.
"Alphonso Davies is a very big talent. At the age of 17, he offers a lot of promise for the future," he said.
"Alphonso already possesses great ability, which is why a lot of top clubs were keen on him. I'm delighted he's chosen FC Bayern."
Davies will continue with the Whitecaps for the remainder of the MLS season before moving to Germany to hook up with his new team in the New Year.
Comments
comments