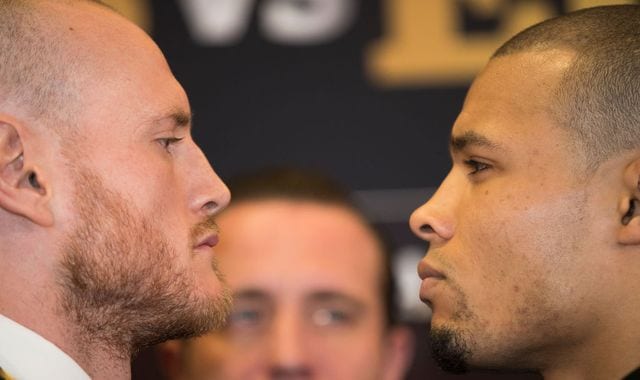 In the world of Boxing, throwing hard and fast doesn't necessarily predict a victory. Certainly, it wasn't the case in Manchester, England tonight, as George Groves outboxed the wild onslaught of Chris Eubank Jr to win the IBO & IBA super middleweight championships.
Round one started with Groves taking the centre of the ring, slowly pushing forward with Eubank — perhaps unlike many had predicted — content to sit back and look for the counter as Groves came in. In the second, things took alight, with both men throwing heavy flurries at the other, although by the bell Groves had landed significantly more blows.
In the third, with technique being traded in for power as Eubank caught Groves early on and staggered him back to the ropes, only for Groves to get Eubank back with an accidental head clash and cause a nasty cut over the right eye.
In five, the pace seemed settled. Groves content to jab away on the outside, keeping Eubank away from the inside, save for a few aggressive leaps forward. That aggression went on through round six, with Eubank regularly shortening the gap and wildly winging in punches before dirty boxing ahead of a referee separation.
The fight continued in much the same fashion all the way to the finish, with exciting clashes occurring frequently, but Groves showing a far calmer and more measured approach than the violent explosions of Eubank. Indeed, in the tenth, Eubank looked to be fading, throwing punches and missing with such force he took himself to the canvas. In the twelfth, the pair just threw it all out of the window, exchanging punch after punch as they bounced from ring rope to ring rope.
In the end, the judges awarded the fight to Groves, with the cards reading 117-112, 116-112, and 115-113.
–
Comments
comments