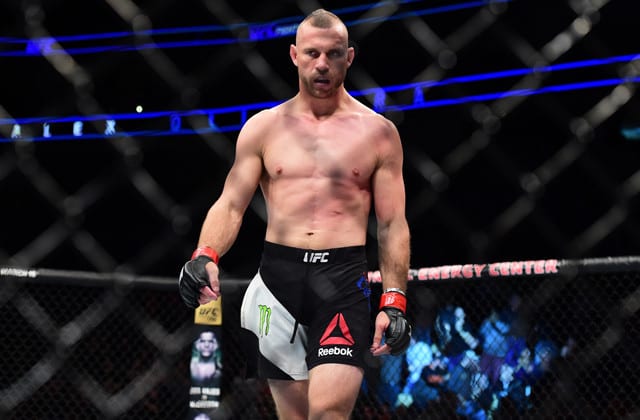 There isn't a fighter in New York more frustrated than Donald 'Cowboy' Cerrone right now.
The welterweight contender has had his scheduled bout with Kelvin Gastelum pulled at the eleventh hour after his opponent withdrew on social media, citing issues with his weight cut. Gastelum's weight ahead of this morning's weigh-ins was in the region of 180 pounds, some 10 pounds over the divisional weight limit. Gastelum has previously missed weight for UFC bouts with Nico Musoke and current champion Tyron Woodley (in which he also missed by 10 pounds).
The New York Athletic Commission does not allow for a 10 pound weight disparity between two fighters in the welterweight division.
Speaking to MMAJunkie after the news of the fight cancellation broke, Cerrone couldn't contain his disappointment. "I'm about $150,000 worth of pissed off", Cerrone said. "I don't know why (he missed weight). I don't know."
Cerrone is one of the most active fighters in the UFC currently and has already set his sights on another fighter in the welterweight division. "The only fight that makes sense to me is Demian Maia just because he's coming off a good fight, he's not injured and it would be a good turnaround for me," Cerrone said. "(I want to fight) as soon as possible. I have no idea. No clue."
It now appears, though, that the UFC have had other ideas and reports are emerging via Damon Martin that Cerrone will face Matt Brown at UFC 206 in Toronto on December 10th. UFC 206 will also host the rescheduled clash between Rashad Evans and Tim Kennedy after that fight was also pulled from UFC 205 following a medical issue with Evans.
Cowboy Cerrone vs. Matt Brown in the works for UFC 206 in Toronto. Verbally agreed. Full story coming soon to FOX Sports. #UFC

— Damon Martin (@DamonMartin) November 11, 2016
Comments
comments