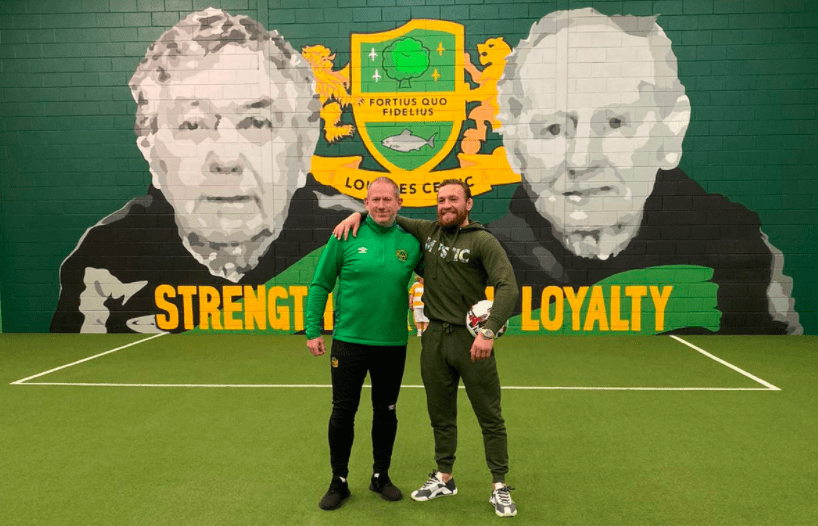 Since it first opened its doors in 1957, more than a few well-known names have come through the doors of Crumlin football team Lourdes Celtic's doors — and now one of its most famous sons is paying back into the community from which he came.
Conor McGregor, who represented the local Dublin team's underage ranks well over a decade ago and grew up quite literally in the shadow of the club's facilities, has taken steps to secure the club for years to come by taking on a significant sponsorship deal under the McGregor Sports and Entertainment banner to facilitate the funding of brand new, indoor and outdoor state-of-the-art training facilities.
In addition, the young players who represent the club will be given two brand new professional-style Umbro jerseys (both home and away) for years to come as part of a package to ensure that Lourdes Celtic's players are kitted out in the best modern athletic wear available.
"We'd like to say he got his footwork here," Lourdes Celtic's Alan Byrne told The Mac Life. "The boxing he can take credit for, but we'll take credit for the footwork. Conor is an ordinary, decent lad that's come back to his home club. He's remembered where he's come from, and he's willing to come in and put in a bit of time. It's not just a case of investment; he's investing his own time and effort and his own feelings and emotions into the place, which is fantastic.
"You'll see the effect of it. You won't hear it, you'll see it for years to come and that will be kids growing up in a club with top class facilities, top class coaches and with a club that will look forward instead of constantly looking behind."
The upgraded training facilities will supply top-level coaching to the team's various age groups to help them follow in the footsteps of the likes of ex-Irish internationals Damien Duff and Niall Quinn, both of whom cut their footballing teeth under the guidance of Lourdes Celtic.
And in addition to McGregor, another world champion fighter — Katie Taylor — also began her athletic career with the club en route to the 11 caps she amassed for the senior Republic of Ireland women's football team. Fittingly, both McGregor and Taylor won world lightweight gold in their respective sports some years later inside the world's most famous sports arena, Madison Square Garden.
"I managed him from when he was 10," says Carol Lacey, Conor McGregor first coach. "When he joined the football team, he was a good asset to us. He was very athletic, very fast on his feet.
"I'm delighted with what's happened today. He's brought the community together again. We are a community club. It was a very emotional day for some of them, as you've seen with Eddie (Roche, one of the club's founders)."
Per a press release from the club, they say that they are proud to partner with their former player McGregor to help secure the club's future.
"Lourdes Celtic football club are proud to announce McGregor Sports and Entertainment are the clubs principal sponsor," the club announced on Sunday. "This sponsorship deal has seen a significant investment in the clubs infrastructure and club kit and will ensure that we have top class facilities for many years to come.
"This will enable us to provide the best possible environment in which the kids can learn to play the game they love."
Sport has long been help as a vital part of Irish communities. This news ensures that the spirit of that will continue to flourish for years to come — and if the result of this is the club producing a new Duff, Quinn, or even a McGregor or Taylor, no one can deny that it will have been money well spent.
Comments
comments