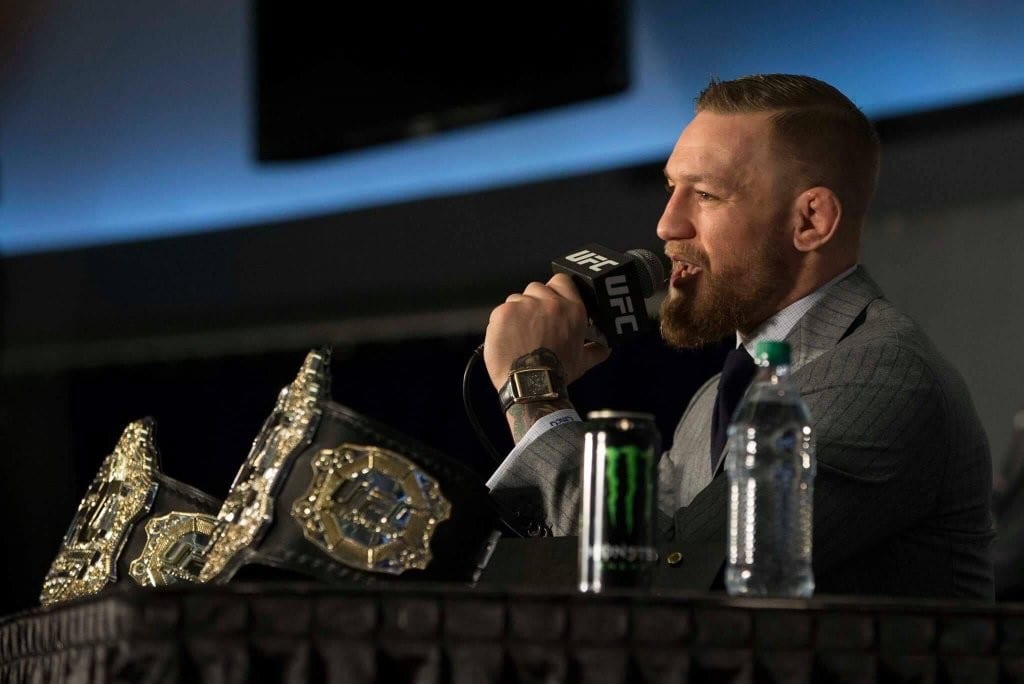 When Conor McGregor announced he would be taking some time away from MMA due to his impending fatherhood, fans were worried they wouldn't see the UFC lightweight champion for quite some time.
However, according to the man himself, they shouldn't be too concerned as he might be back before they know it.
Speaking to RTE ahead of his sports person of the year award victory, McGregor reflected on an incredible year, in which he broke the UFC pay per view record repeatedly and won his second world title.
"It's good to be on top, it's good to be two-weight world champion," McGregor said. "It's been an amazing year, a learning year for me, a rollercoaster of a year with many ups and many downs.
"I'm happy now, I came out strong at the end of it and here I am standing tall."
Despite being stripped of his featherweight title ahead of UFC 206, McGregor still considers himself the rightful champion in two weight classes, and looks back at his win at UFC 205 as the defining moment of his career.
"That was the culmination of 28-years of hard work," he insisted. "That night was my entire's life's work, every single session, every single hour of training I put in was for that moment.
"It was an unbelievable moment for myself, my team, everyone who has come up with me on this journey. It was an amazing night for us all.
Conor McGregor talks to Clare McNamara after a year which he call the 'culmination of his life's work'. https://t.co/0AY8QPqGyu

— RTÉ Sport (@RTEsport) December 17, 2016
Since that night in New York, there has been plenty of speculation on what McGregor's next move will be. While he has options at either 145-pounds or 155-pounds in the UFC, the Irishman has made no secret about his ambitions outside of the cage — a boxing match, possibly with Floyd Mayweather.
"I've got the boxing licence," McGregor said. "[Mayweather's] last pay-per-view was 350,000 buys. The fight was a flop, it was a dud. His last two fights have been duds. I certainly don't need him.
"Of course the Floyd fight is the fight the public want to see, but we'll see. These things take time."
And it's the time that worries fans. As one of the most active champions in the UFC, a McGregor absence leaves a seizable hole in the roster. Recently, UFC President Dana White was reported as saying McGregor wouldn't return to action until July or so, although McGregor himself isn't so sure.
"As far as I break, I don't know," he said. "I know Dana has been on record, he's saying '10 months, he's taking 10 months', I don't know. Originally I thought the baby was being born in March and then it was May so maybe I could get in another [contest].
"I just don't know. I'm weighing up my options."
Comments
comments