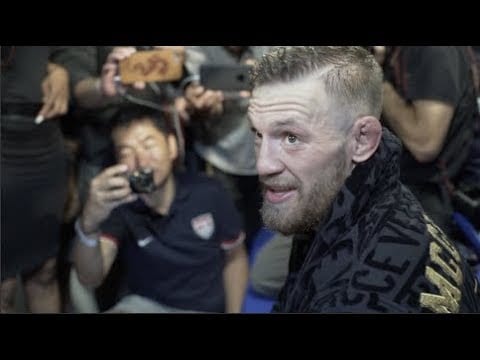 It's been nearly a month since we last heard from Conor McGregor. But while the cameras may have been kept away, at today's open workout in Las Vegas, the Irishman showed he's been spending the time wisely.
After a lengthy open workout in front of a throng of media at the UFC Institute, McGregor took questions from the media to discuss a number of topics, as well as throw a few pointed barbs in the direction of his August 26 opponent, Floyd Mayweather.
"Have you seen him?" McGregor said of his competitor. "I haven't seen him — he's in hiding. He used to be everywhere, now he's hiding behind these little strip clubs things or whatever he's doing. You can hear it in his voice, you can see it in his eyes, you can fee it in that gym [at Mayweather's open workout] yesterday, don't lie and act like it's not.
"Where was the energy? Where was the tempo? He was trying to talk his way out of fatigue: 'switch that song, do this do that'. I see it, I see through that. I see it in his eyes and his body language."
Recently, reports have emerged that both Mayweather and McGregor have been in talks with the Nevada State Athletic Commission regarding dropping their fight night glove weight down from 10 ounces to 8 ounces. For McGregor, who made his name dropping foes in 4oz mitts, such a change would be welcome.
"Trust me," McGregor said. "Wear 8 ounces, I'm struggling to give him 2 rounds and that's the Gods honest truth. The only reason I'm maybe giving him 2 rounds is because in this game the referee stops me from pounding his head into the canvas. He gets ten seconds to recover. That's the only reason he might see the second round."
In the end, he capped it all off with a simple — but effective — warning for Mayweather, while letting everyone know who's the current name in the fight world.
"I'm the face of the fight game, period. And I rule over both with an iron left fist. But if you fear the left, you get the right."
Comments
comments