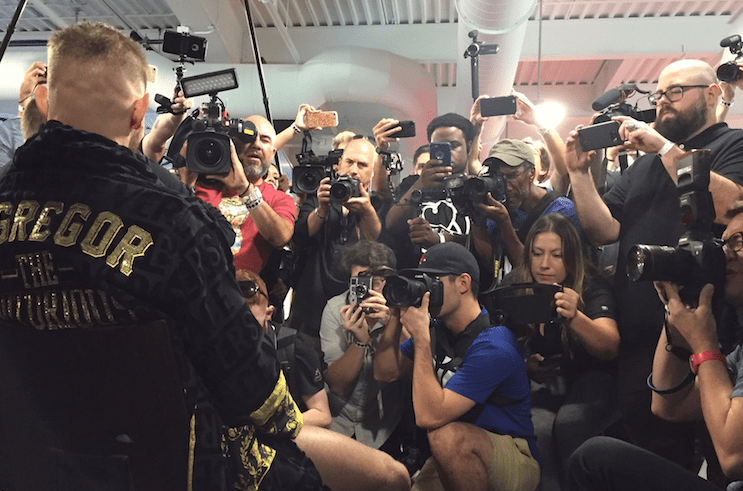 Conor McGregor might be fighting Floyd Mayweather in a number of days, but he's been anticipating the contest for quite a while longer.
Speaking to the numerous outlets of media at his open workout in Las Vegas, Friday, McGregor revealed that the upcoming boxing bout — one touted as being the biggest of all time — has been on his radar ever since Mayweather made negative comments about McGregor's preferred sports of mixed martial arts.
"This is a fight that has been in my crosshairs since Floyd's been opening his mouth," McGregor said. "Simple as that. Not necessarily since he's been speaking my name — since he's been speaking ill of mixed martial arts. He spoke very bad about the sport multiple times."
While it may be McGregor's first foray into boxing, as usual the Irishman remains confident about his chances, taking the opportunity to disregard concerns made by media pundits that the cardio differences in boxing.
"One hundred percent [I'm in good shape]," McGregor said. "Going from four five minutes to twelve three minute rounds. It's been about adapting, but it's been very enjoyable and I am in pristine condition. You will see."
The most concrete statement, however, came directed towards Floyd Mayweather, after the undefeated boxer's own open workout yesterday. McGregor, it must be said, was unimpressed.
"You know what I heard him say yesterday?" McGregor said. "Nothing. I heard him say fuck all yesterday. I saw a man scared. That's what I saw, I saw a lacklustre workout and a man trying to talk of fear.
"I love this. This is my life."
—
Comments
comments