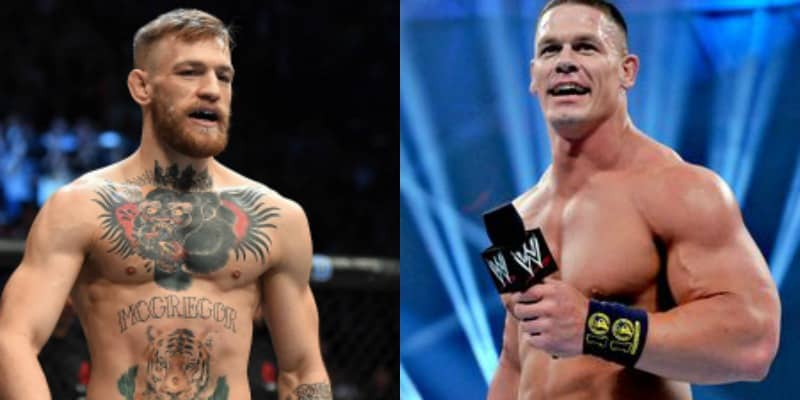 Though they are entirely separate entities in more ways than one, a path appears to have established itself between the very real world of mixed martial arts and its sports entertainment second cousin the WWE.
Brock Lesnar, CM Punk, Dave Bautista, Bobby Lashley and, latterly, Ronda Rousey are some of the names who have at one point or another traded the octagon for the squared circle, or vice versa, but arguably none of those names would have the same impact as that of Conor McGregor should he ever decide on a career change.
This is a view shared by one of the most decorated professional wrestlers in history. Speaking with Mike Sheridan of entertainment.ie while promoting his new comedy 'Blockers', Cena says that the Irishman would make a huge impact in the WWE.
"He would do fantastic," Cena said. "Hell, he would put me out of work.
"He gets the entertainment aspect of sport and I think he gets it as good, or better, than anyone else. The way he promoted the fight against Mayweather; that's what we do. He did as good, or better, than us. I hope one day, if you're out there watching and you want to come to WWE, he would be a fantastic WWE superstar, but again that's out of my hands."
Of course, McGregor has been critical of several members of the WWE roster — Cena included — in recent times.
"I think these WWE guys think… They're not right in the head, some of them," McGregor said last year. "I mean the new age are dweebs. The old school guys are legends. Ric Flair's a legend, the McMahons of course… Dons. But I just said it as it is. They're dweebs.
"What's the main guy? John Cena," McGregor said. "He's 40. He's 40 years of age. He's walking around in a luminous orange t-shirt and a headband talking about nobody can see him. We can see him right there. He's a big fat, 40-year-old failed Mr. Olympia motherfucker. They're dweebs those guys."
The newest wrestler on the WWE payroll, Ronda Rousey, nonetheless retains McGregor's respect after her move from the UFC.
"I'm delighted for her," McGregor said, speaking with Adam Glyn in New York. "Absolutely over the moon for her. She looked like she really enjoyed herself at the event, and I was very, very happy to see her. She's a pioneer for the game, and she's came through it all and faced big wins and big losses. And she came through it, and it's great to see her represent herself and mixed martial arts and have fun in the WWE.
"I know she's been a big fan of it through all her life. So it's great to see that."
Comments
comments