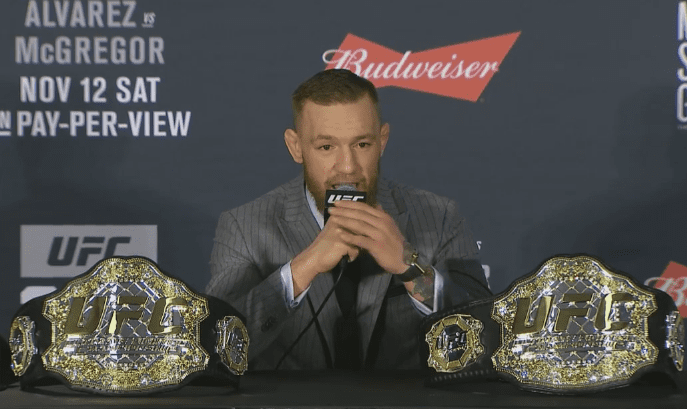 The Irish rugby team have received pep talks from some of the biggest figures in the world of sport in recent years. The likes of Rory McIlroy and Usain Bolt have been drafted in to deliver some words of advice to the players ahead of a big game, but there's one person the players want to receive inspiration from more than anyone else: Conor McGregor.
One of the duties of Irish rugby team manager Mick Kearney (not to be confused with head coach Joe Schmidt) is to arrange for extra-curricular activities to help the players gain focus but, according to an interview he gave to the Daily Mail, the squad have repeatedly requested that Kearney track down Conor McGregor for some pre-game encouragement.
Kearney will shortly leave the fold in the Irish training camp to be replaced for former international Paul Dean but he says he will use his contacts to try and fulfill the team's request.
"I organised Usain Bolt, Rory McIlroy, Barry McGuigan, Niall Quinn, Sonia O'Sullivan, lots of good sportspeople, to talk to the lads but the one person they really want to get in now is Conor McGregor," Kearney said to the Daily Mail.
"They felt I might be able to pull that off before I left. I've a connection through someone I know to his coach John Kavanagh. If I can assist when I'm gone I will do that, but as I said to Paul I have to leave somebody for him to get because we have got a lot of the good ones in."
"There's a lot of admiration (for McGregor), Kearney added.
"When it comes to the talk, at the end of the day Conor is trying to sell tickets and pay-per-views but beneath it all he's a seriously good athlete. Our guys admire seriously good athletes from around the world and they would like to find out how he mentally prepares for his fights."
Comments
comments