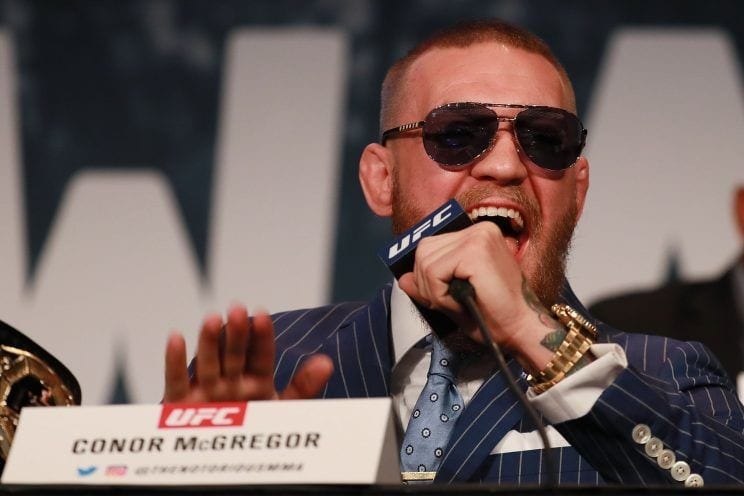 Some of the most infamous fights in history have taken place inside the ropes of the world's most famous arena, Madison Square Garden.
Muhammad Ali, Joe Frazier, Evander Holyfield, Lennox Lewis, Sugar Ray Robinson, Jake La Motta, along with practically anybody who ascended to the upper echelon of the boxing game, have all thrown leather inside the iconic arena.
This Saturday, The Garden will write a whole new chapter in its history when it opens its doors to mixed martial arts for the first time and it is perhaps fitting that the first main event between Conor McGregor and Eddie Alvarez to take place there has history-making ramifications for the venue, the UFC and the sport as a whole.
Last March, after many years of negotiations, lobbying and campaigning, mixed martial arts was legalised in New York when the New York state assembly approved legislation to have the sport fall under the jurisdiction of the New York State Athletic Commission and in doing so, New York became the 50th and final state to legalise the sport.
It wasn't an easy task, though.
The UFC – and in particular former owner Lorenzo Fertitta – was instrumental in campaigning for mixed martial arts' legalisation in the state where some of the most revered fights of all time have taken place. They had significant obstacles, though. Proposals to have the sport legalised were met with severe backlash from some prominent members of the New York legislature.
Accusations of 'human cockfighting' were dragged up again, along with other concerns about the safety and public perception of the sport but, eventually, New York decided to do what every other state in the union had done before it – end the ban and regulate the sport.
So persistent were the UFC that regulating the sport in New York became an overarching ambition for the company. UFC president Dana White had long promised fans that once the sport is legal in the Big Apple, they will hold a landmark event at Madison Square Garden.
He wasn't kidding.
Three title fights and a host of famous names and intriguing match-ups on the undercard have earmarked UFC 205 as being those most anticipated event in the 23-year history of the UFC. At the top of it all, Conor McGregor will attempt to become the first person in UFC history to hold belts in two different weight classes simultaneously – a piece of history very much in keeping with the venue which he will attempt to do it in.
New York's fight to allow the sport to take place within its borders is over. It's time for a whole new fight this weekend.
Comments
comments