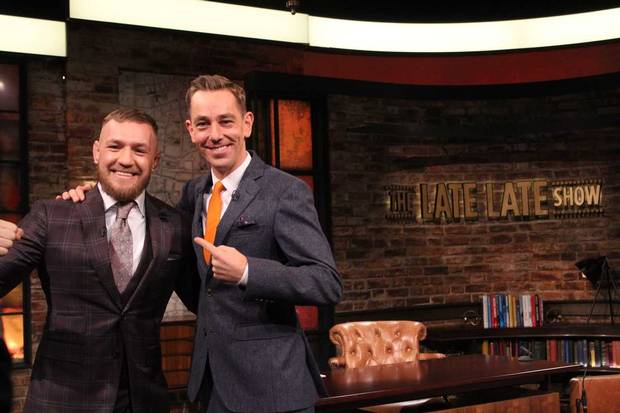 To some, it has seemed that mixed martial arts has been under assault for its position in Irish culture.
While fan interest is exploding on the island or Ireland, as well more and more gyms and clubs being established across the country, several prominent members of the Irish media have renewed calls for the "barbaric" sport to be expelled from within its borders.
Won't somebody think of the children?
Ryan Tubridy, host of The Late Late Show, the longest running talk show in television history, was among the first mainstream Irish media personalities to embrace the sport and its chief proponent on these shores, Conor McGregor.
Tubridy served as the entry point for many in Ireland to be introduced to McGregor, who appeared shortly after his UFC debut win against Marcus Brimage in Sweden in 2013.
Now, speaking with Mike Sheridan on The Delve, Tubridy enunciated his appreciation for Ireland's first UFC champion.
"The guy is a phenomenon," he said. "I believe that the MMA world is a phenomenon and if we choose to ignore it without talking to someone who knows about it, like you, how are we going to learn?
"We could choose to ignore it, and say they're all violent and awful but then you're living in blissful ignorance. We have to air it. Have a civil discussion about it and then describe it, explain it. Why are all these people spending a fortune to go to Vegas for five days, spending their hard-earned cash — that costs a lot of money to go there. I don't believe they're doing it because they're bloodthirsty barbarians.
"They believe that this is their sport, that [Conor McGregor] is their guy and it's worth putting a lot of money into pursuing him across the ocean."
"It's funny, because I interviewed McGregor the first time and I was saying, 'who is this guy?' I said to McGregor at one point that if Muhammad Ali was born in Dublin he'd sound like you because he has this natural flow of vocabulary. Now, whether you like it or not is moot, but it's intriguing and different."
–
Comments
comments