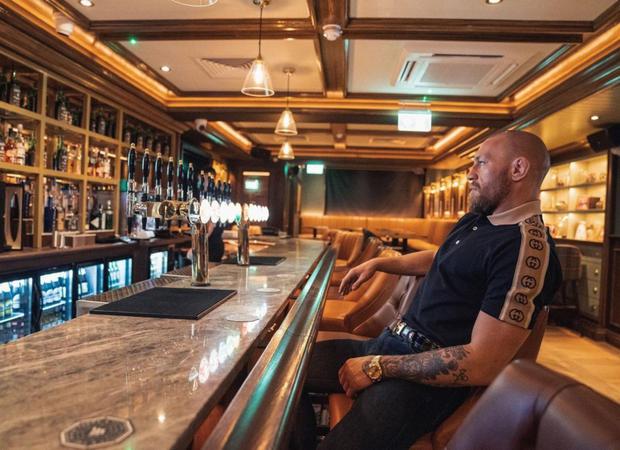 Dublin City Council has given Conor McGregor the green light to expand the Black Forge Inn, the pub recently purchased by McGregor in his hometown of Crumlin in Dublin 12. 
McGregor, who has recently moved to vastly expand his property portfolio, was granted permission by planning authorities to add an extension to the rear of the venue, with planning consultant Kevin Hughes detailing how the redevelopment will create jobs in the area, as well as attract visitors from both home and abroad — with McGregor's link to the pub already having seen a boom of overseas tourists visiting the property since its purchase.
The plans will see the addition of a large single-story extension and food preparation area, as well as an outdoor dining section with raised canopy overhead. This comes after an area to the rear of the pub was recently purchased, with the the application to the council stating that, "the hours of the public house will remain the same as they are at present, which is standard for the Dublin City jurisdiction and helps to promote the night time economy in supporting Dublin becoming a 24 hour city."
Hughes also detailed: "we submit that the amenity of the neighbouring residents will be improved due to the addition of a new restaurant option in the area."
View this post on Instagram
There she is in all her mystical glory!
To the top left of this picture, where the black gate and tarmac is, is where my new indoor/outdoor area will be. Ready by February. It will add a whole other dimension to this already amazing Dublin Twelve premise!
Proper indeed! 🖤 ☘️ https://t.co/ePR537OP2B pic.twitter.com/pK3DqEKT02

— Conor McGregor (@TheNotoriousMMA) November 30, 2021
McGregor purchased the property for a sum of around €2 million last year and is reported to have spent as much as €1 million upgrading the pub, as well as overseeing the implementation of an upmarket à la carte menu.
This comes after McGregor recently moved forward with plans for an ambitious site, which will including commercial and residential properties, along Dublin's Grand Canal.
McGregor stated: "Housing plus multiple amenities to be built on this amazing mega site, which sits sun facing adjacent the main city centre Luas line. One amenity being a brand name supermarket! A stone's throw from the National Children's Hospital in Crumlin. As well as St. James's hospital also."
–
Comments
comments