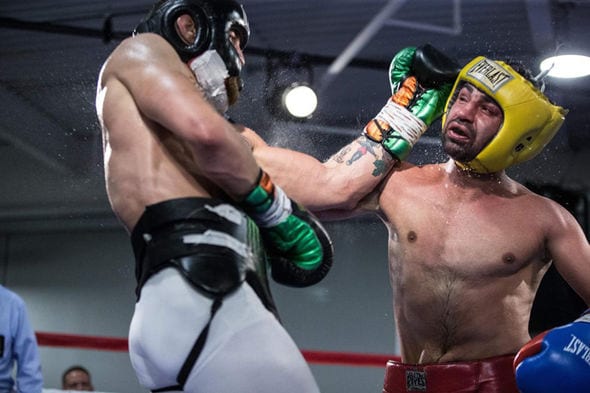 One of the biggest stories throughout the lead-up of Conor McGregor vs. Floyd Mayweather has been how the UFC champion McGregor has been preparing for his first professional boxing bout.
An essential aspect of that, and the one that's drawn the most attention, is McGregor's sparring sessions in the place of his private gym. No doubt the most notorious spars the Irishman has had is with former world boxing champion Paulie Malignaggi.
Malignaggi was brought in to McGregor's camp to assist with sparring after making a series of disrespectful comments towards McGregor's chances as a boxer. After two days of sparring, Malignaggi left the camp in a rage after unflattering images came out that showed McGregor getting the better of him.
Since leaving the team (and for a while before), Malignaggi had a series of interviews discussing McGregor's abilities, as well as disparaging remarks on his personality. While some might think Malignaggi's attitude and comments would upset McGregor, the first man to hold two belts in two weight classes at once actually takes a more relaxed view.
Namely, Malignaggi can say what he wants, but the facts remain the facts.
"It shows his character in my opinion," McGregor said. "He was looking for an exit. The spars were not good for him, he took a lot of head trauma. Straight after it, we were worried. The sparring partners were actually telling us that when he was dropped back at home he was stumbling out of the car after the 12 rounder.
"He was knocked down, he was flattened against the ropes multiple times. Times the ropes kept him on his feet. We were worried about him. We thought the worst was about to happen. He was certainly badly concussed. And then he just got out of there and went running.
"I don't know, I don't mind Paulie. He came in, he spoke a hell of a game previous. … but no matter what a man says, if they show up and try to answer that as best they can, you got to give respect. That's what happened, he showed up and tried his best, and he got his ass whooped. He got his pride dented, and he wanted his way out.
"What better way for a guy like him than to exit under a load of questions?"
One of Malignaggi's claims in regards to his time with McGregor is McGregor supposedly possessing a poor attitude to sparring partners, even labelling his housing as 'a crackhouse'.
Once again, McGregor ignores the words and focuses on the reality.
"I think it's ridiculous," McGregor said. "I mean we have multiple houses over here. he can say what he wants, the guy is a mouthpiece. He came in and he got his ass beat. I don't know what else to say, he got his ego badly dented. We sent the footage over [to Showtime], we sent the footage of the knockdown, and I think they're refusing to show it.
"He was flattened, what can I say, he got his ass whooped. … It worked out perfect for him," McGregor said. "He didn't want to show up again; he couldn't. It wasn't in him. So it worked out great for him, he got to exit under a cloud of questions and exactly what a mouth like him wants."
Comments
comments