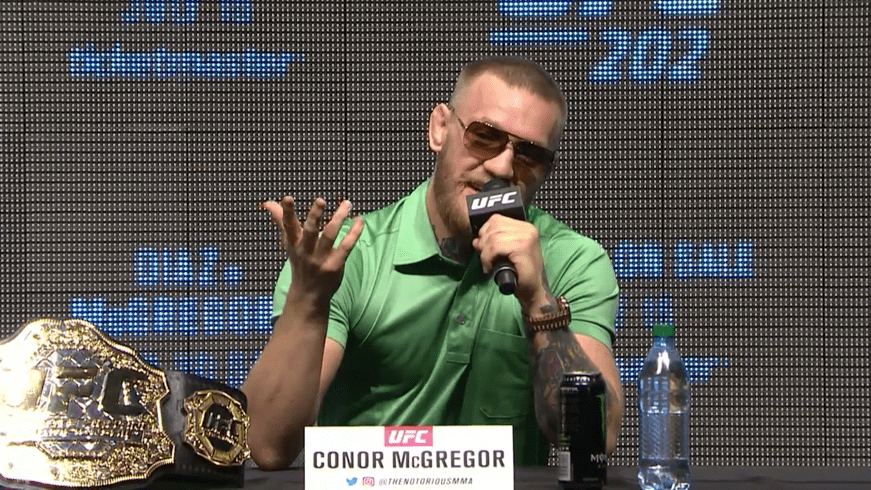 Today in Las Vegas, the UFC held a press conference to promote the UFC 202 main event rematch between Conor McGregor and Nate Diaz.
The rematch between the two was originally supposed to headline UFC 200, but after a disagreement over media obligations between the UFC and McGregor, that fight was cancelled, and instead a bout between Daniel Cormier and Jon Jones was scheduled.
It was with some irony then, that Diaz and McGregor were in town just two days before the event, just as main event that replaced them was cancelled. It was always speculated that McGregor vs. Diaz 2 was the bigger match up, and the live stream views seemed to confirm that, with the UFC 200 pre-fight press conference gaining around 30,000 views live, and the UFC 202 equivalent reaching over 85,000.
"I could sit up here and say well, well, well," McGregor said of the situation. "But I am a successful human being and successful human beings do not celebrate in the adversity and misfortune of others.
"All I missed was a press conference. If I look at the main event of the fight and the co-main of the fight weren't even at that press conference. It is what it is."
The McGregor-Diaz rematch is instead scheduled to take place on August 20, and will have both men contesting at welterweight (170lbs).
There had been some surprise in regards to the weight, as traditionally Diaz and McGregor are closer to the lightweight division of 155lbs. McGregor though, doesn't see it as an issue of weight, instead as an issue of parity.
"What kind of fighter would I be if I lost a contest at a specific weight against a specific individual and then i said well you got me this time, cut a load of weight and I'll get you at that weight," McGregor said. "So it makes sense for me to have the contest at 170, to right the wrong. To leave no questions. This is the one, this is where I put everything to rest."
With two contests back to back taking place in a division 25lbs above his usual division of featherweight, there has been some noted skepticism as to whether McGregor will be returning to defend his title at any point in the future. Skepticism that McGregor was quick to put to rest.
"I giggle, I giggle when they try and take that credit from me," McGregor said. "For going up this weight and fighting at 170lbs and they try and say that 'it's just a fight where i'm not cutting weight' and all this bullshit. Make no mistake, I am the undisputed 145lb UFC champion, and that is my division, a division I have destroyed.
"Make no mistake that 145lb division is my division, I am the world champion at that weight and i will continue to dominate that division. I have other business that has presented itself that I must handle first, but make no mistake. 145. 155. These are all my divisions and I will come back to dominate them."
While unfortunate sound issues meant that we perhaps didn't get to see the back and forth we expected from the two stars, with both men making reference to the poor sound quality, there were still some nuggets to be gleaned from the occasion.
UFC 202 takes place on August 20, at the T-Mobile arena in Las Vegas. Tickets go on sale to the public Friday July 15.
Writer: Oscar Stephens-Willis
Comments
comments