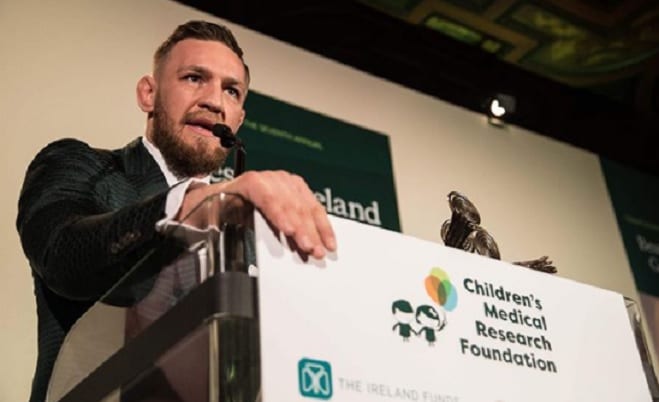 UFC lightweight champion Conor McGregor was honoured on Wednesday at the 7th annual Best of Ireland Gala in New York City for his charitable work on behalf of Our Lady's Children's Hospital in Crumlin.
McGregor, a native of the Dublin suburb, has made several charitable donations in recent times in support of Ireland's largest paediatric hospital, as well as making several visits to the location to help raise the spirits of its patients and their families. Donations such as these, as well as those from other donors, have led to the hospital investing in further infrastructure to assist with the several thousand patients who seek treatment in the hospital annually.
Recent additions to the hospital as a result of cash injections from individual donors and the state have led to the opening of a new cardiac catheterisation theatre, an orthopaedic theatre and a cardiac daycare ward.
At Wednesday's event in New York City, it is believed that a further $800,000 (around €645,000) was raised in part to assist the hospital.
Writing on Instagram, McGregor spoke of his pride at helping to raise these funds for a cause very much close to his heart.
"It was an honour to support Our Lady's Children's Hospital of Crumlin at the 7th Annual 'Best of Ireland Gala' dinner in New York City tonight," McGregor said.
"Over $800k was raised for the hospital. Tonight alone. Amazing. The highest number of each previous gala. $800k plus thousand is truly a lot of money and everyone involved in this should be very proud.
"I look forward to hearing and seeing reports of where the money is put to use in the hospital. What a great night!"
Was told they normally raise about 600k. Tonight they broke 800k for first time. This included an on the spot generous donation from Conor after already donating. He's not a bad kid 👏😊

— Coach Kavanagh (@John_Kavanagh) February 1, 2018
Last month, McGregor shared a story of a training partner of his whose son was a patient in the cardiac department in Our Lady's Children's Hospital. The child's life was saved by the state of the art treatment he received in the hospital, a direct result of the investment in cutting edge technology made possible by its benefactors.
McGregor wrote: "Ciaran [Maher's] son was a patient in the cardiac department in Our Ladies hospital before. I went in one day on the low a while back and visited all the patients and helped out in my way for the department, and nobody knew about it, I made sure of it, but Ciaran reached out to me out of nowhere thanking me for it and I was like how do you know about that and was blown away as he told me of his son and his journey and that his life was saved by the people in the cardiac department in Our Lady's.
I done this on the low and it reached right back close to me out of nowhere. Crazy. It's crazy how you just never know. I invited the little champion, my brother Ciaran and his wife today and it was great to meet the little man, thank you for coming."
Our Lady's Children's Hospital continues to make great strides in the local and wider community throughout Ireland, changing the lives of thousands of children and their families each year (including a close relative of your writer).
You can learn more about the hospital by visiting their website.
Comments
comments