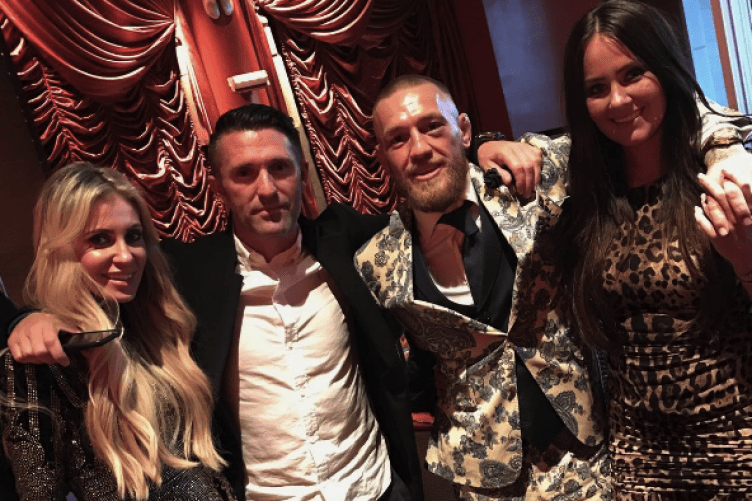 Robbie Keane and Conor McGregor are two of Ireland's most successful sportsmen. 
McGregor achievements have been noted en masse on these particular pages and don't require repetition but Keane, for the unaware, stands head and shoulder above the crowd when it comes to being a potent goalscoring threat for the Irish national football team.
Dubliner Keane, now retired, has represented some of the world's biggest football clubs through his record-breaking career which saw him make his Irish debut as a 17-year-old and go on to plunder a remarkable 68 goals throughout a glittering international career – a figure good for the 18th highest goalscorer in the history of international football.
Lovely gestures @TheNotoriousMMA 👏🏼👏🏼☘️ Amazing support for our frontline workers 👏🏼👏🏼 #ourhospitalheroes #WereInThisTogether https://t.co/kZ0tmvdABo

— Claudine Keane (@ClaudineKeane1) April 30, 2020
And much like McGregor, Keane has been making good use of his status as an Irish sporting great during the on-going Covid-19 situation in the country and has announced details of a fundraiser to raise much-needed money to assist Irish healthcare workers, many of whom are putting themselves at daily risk on the frontline of the continuing health crisis.
Keane outlined a donation for a campaign called #OurHospitalHeroes in which he is accepting bids to receive Keane's final ever Ireland jersey, worn on his 146th and final cap against Oman several years ago. McGregor has supported the cause with a donation of €20,000.
Writing in response to Keane, McGregor said: "Irish sporting legend! Give us a good jersey for my gaf brother!"
Keane responded, noting McGregor's donation: " I'll have something special for you thanks so much for your Donation incredibly generous, to which McGregor responded, "Top man Robbie fair fucking play to you doing your bit it doesn't go un noticed. True representative of the green white and orange it's the only way you could have banged in that many goals was with true love and passion for the land. Thank you brother!"
The fundraiser has raised over €65,000 as of the time of writing this article and you can make a donation by visiting this link.
Comments
comments