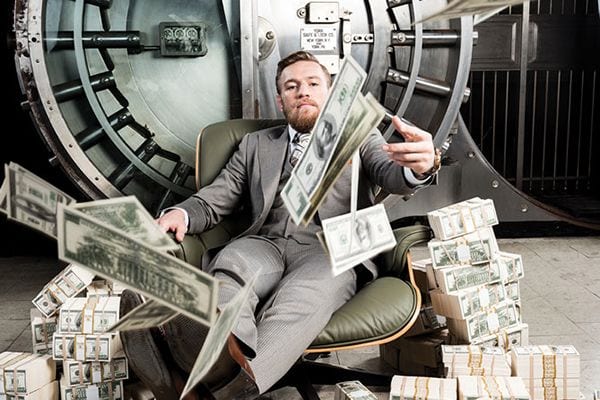 Conor McGregor is now one of the highest paid athletes in the world, alongside names such as Usain Bolt, Lebron James and Cristiano Ronaldo.
The UFC lightweight champion was featured on the Forbes list of the highest paid athletes in 2017 at number 24 (tied with Real Madrid star Gareth Bale). The list states that over the course of the last year, McGregor has made over $34 million dollars, with $27m coming via his fight purses and $7m from various sponsorships.
McGregor was the only mixed martial artist to be included this year.
To put the achievement into a general perspective, McGregor is listed above names such as soccer star Zlatan Ibrahimovic, tennis player Rafael Nadal and — perhaps in what will earn a wry smile from McGregor himself — boxer Canelo Alvarez.
McGregor's past twelve months have been undoubtedly the most financially successful in any mixed martial artists career. His two bouts with Nate Diaz (UFC 196/UFC 202) and his title fight against Eddie Alvarez (UFC 205) were all record breaking events for the promotion.
It is likely, of course, that next year McGregor's positioning on the list could be significantly higher.
Should the boxing match with Floyd Mayweather come to fruition — and negotiations are supposedly near a conclusion — it's probable the revenue generated by that contest will set records for both men, and result in McGregor's climbing of several places.
Comments
comments