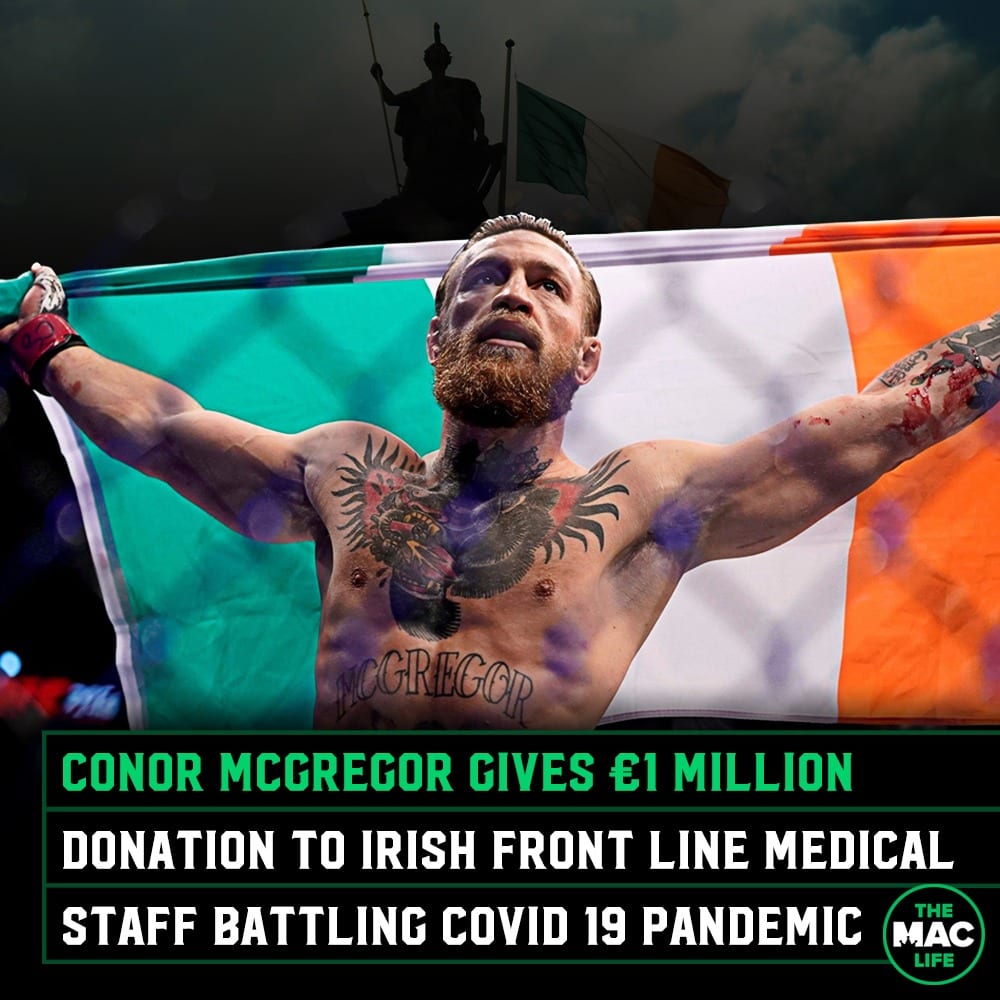 Following on from his video plea calling for national unity in the battle against the COVID-19, Conor McGregor has on Wednesday announced that he is making a €1 million donation towards much-needed medical equipment aimed at supporting Ireland's healthcare system amid the coronavirus pandemic. 
The Dubliner released a video via The Mac Life on Tuesday in which he called for Irish people to follow government advice in a bid to mitigate the spread of the virus which, if left unchecked, threatens to overrun the Irish healthcare system. Taoiseach Leo Varadkar announced further measures on Tuesday to help contain the virus, including forcing the closure of all non-essential businesses and limiting social gatherings to no more than four people — in addition to the various social distancing guidelines which have been rolled out in recent days.
McGregor also advocated for further 'lockdown' measures after numerous reports emerged of some sections of Irish society being slow in adopting the necessary steps required to inhibit the spread of COVID-19 which stands at 1,329 confirmed infections in the Republic of Ireland as of Tuesday's figures.
However, he has also gone one step further by announcing that he is making a donation of €1 million towards protective equipment designed at safeguarding the health of the legions of medical staff tasked with combating the disease.
"Today I am purchasing myself, €1 million euro worth of  personal protective equipment to be deployed to all the fighting hospitals in the Leinster region," McGregor said on Twitter in a discussion he posted with Irish minister for finance Paschal Donohue.
"Our most affected region, to this date. St. James. Mater, Tallaght. Beaumont. Vincent's. Where we would be without these brave men and women, I do not know. May God bless over them and keep them safe!"
Thank you sincerely for your message, Minister Paschal Donohoe.
Here is my reply. pic.twitter.com/0NcnVgrKaA

— Conor McGregor (@TheNotoriousMMA) March 25, 2020
McGregor's move will be a boost to the Irish medical staff who battle the virus on the frontline with certain types of protective equipment becoming in increasingly high demand. It is of utmost importance to protect the health and safety of medical personnel so as to not deflate the hospital system's ability to fight COVID-19.
And remember, you can do your part too by staying home as much as possible and following the guidelines with relation to hygiene and social distancing.
Comments
comments