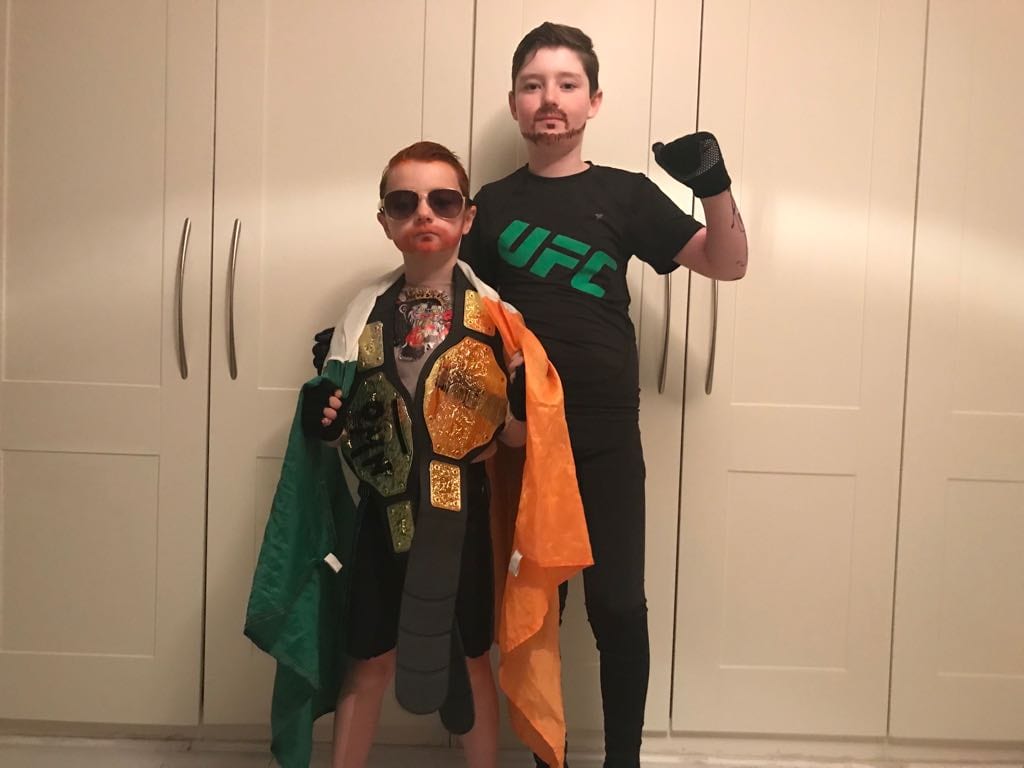 There's supposed to only be one Conor McGregor, but around the end of October, you might just find a few more.
The champ-champ may not have been in the Octagon this year (so far), but his presence remains felt all over the MMA landscape. After taking part in the biggest fight in combat sports history, McGregor has made himself something of a cultural icon — not just in sports, but in success overall.
That's why come Halloween, the Irishman's unique style gets emulated by fans across the globe. Now some of those costumes might be a little bit more true to life than others, but hey, if you didn't quite nail it this year: you win or you learn.
Ladies/gentlemen it's Connor McGregor – how about that tattoo????! That's my really nice eye liner & lipstick! @TheNotoriousMMA #halloween pic.twitter.com/J20b6Bmw1p

— Elizabeth Kay (@ElizabethKayFM) October 29, 2017
@TheNotoriousMMA Greatest Halloween Costume ever. #Notorious pic.twitter.com/gx1DiS9pr6

— Jonathan Becker (@RealJonBecker) October 29, 2017
#ConorMcGregor pic.twitter.com/Hs4oTIv65W

— Travis Langner (@tlangner0) October 29, 2017
Where tha fook is Maywedda? pic.twitter.com/CMjgbap17U

— Skyler Howard (@SkylerDonHoward) October 29, 2017
Check it ooouuuut Connor McGregor showed up at my place this Halloween @TheNotoriousMMA pic.twitter.com/0Ocsw9oQnK

— mod (@ModieO) October 29, 2017
FUCK DA MAYWEDDDAS!!! @TheNotoriousMMA @FrontRowBrian @joerogan @dillondanis @kunal00 pic.twitter.com/Oa7TiBDSSh

— GHOST (@AllDayAHorre) October 29, 2017
. @TheNotoriousMMA all the way in West Virginia pic.twitter.com/P9QMG9nYcG

— Jack Gibson (@JackGibson8) October 29, 2017
@TheNotoriousMMA fuck the Mayweathers. pic.twitter.com/7Of8IGAV4x

— Sarah Savoie (@SarahjSavoie) October 28, 2017
@TheNotoriousMMA Fooking pimp in a Gucci mink. I will bounce Floyd's head smooth off the canvas like a basketball. #Notorious 🇨🇮 pic.twitter.com/Ufib2p4vmo

— Lavar 8 Ball 🎱 (@bp_cummings24) October 28, 2017
Who wore it better? 🇮🇪@TheNotoriousMMA pic.twitter.com/7oUG5TQgkc

— Jake Miola (@JJMiola22) October 28, 2017
— ΑΓΡ Tau Chapter (@AGR_MSU) October 28, 2017
@TheNotoriousMMA. SHUT YOUR FOOKING MOUT. pic.twitter.com/SFl28B01e9

— Alpha (@itskodaallen) October 28, 2017
You can be dam sure I was the only reason people showed up to the party! 🇨🇮 @TheNotoriousMMA pic.twitter.com/0gJ2JoDw4Z

— Christian (@CMcGuire17) October 28, 2017
@TheNotoriousMMA what do you think? pic.twitter.com/HX1xV3hyap

— Jaylen Blue (@whitetiller34) October 28, 2017
The #champchamp with the #coachcoach 🤣 pic.twitter.com/B65JBD747R

— Coach Kavanagh (@John_Kavanagh) October 27, 2017
—
Comments
comments