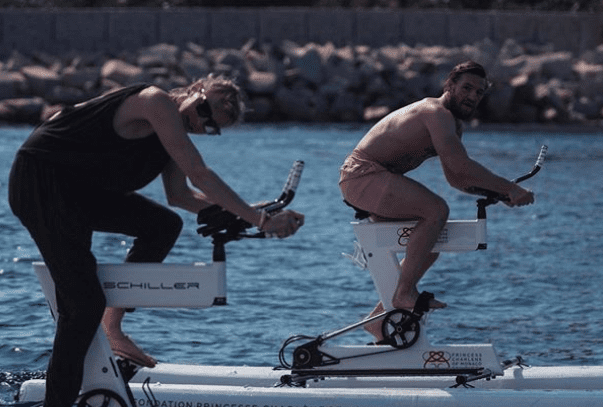 Conor McGregor's influence in the fight game extends to every corner of the globe, and we suppose you can now add the high seas to that list as well.
The Dubliner, who is a noted enthusiast of the open water, announced in an Instagram post Monday that he will team up with Princess Charlene of Monaco for a charity voyage in a bid to raise awareness for water safety. The 180km trip is due to begin in September.
McGregor went on to detail that he would use his McGregor F.A.S.T. conditioning program to prepare himself for the physical rigours of the journey, in which he will undergo a tailor-made routine to ready himself for the specific challenges that the voyage will represent.
"A Great day racing the water bikes with Princess Charlene of Monaco," McGregor wrote on Instagram, accompanied by an album of photographs showing him on the water with Princess Charlene as well as the Prince of Monaco, Albert II.
"A phenomenal athlete and Olympian, we are teaming up for a 180km voyage in September to raise awareness in water safety. I cannot wait!," he said of Princess Charlene, who represented South Africa in swimming in the 2000 Olympic Games.
"We will be utilising my training under the McGregor F.A.S.T program to excel on these mounted water bike devices, which are incredibly good! It is like Freedom out there! Thank you for the great day for my family Your Highness. In aid of the Princess Charlene of Monaco foundation."
Followers of McGregor's social channels will have no doubt come across several shots of McGregor's own vessel, which he named 'The 188' in reference to the weekly social welfare payments he counted upon before his history-making UFC debut in Sweden in 2013.
Comments
comments