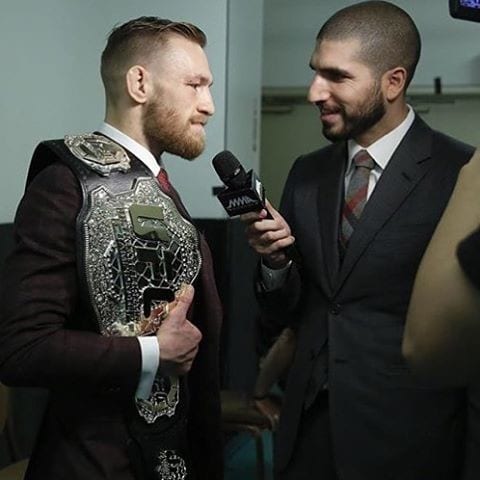 The backlash of the UFC's decision to strip Conor McGregor of his featherweight belt continues.
For Ariel Helwani, one of mixed martial art's top journalists and analysts — while he believes the decision to strip McGregor could have been justified — the manner in which it was carried out was completely mismanaged.
"The problem is the why and the how," Helwani said, speaking on The MMA Hour. "The why is a big issue. If Daniel Cormier did not get injured, Monday morning we're sitting here talking about Conor McGregor as the featherweight champion. Daniel Cormier's injury led to Conor McGregor getting stripped. That alone just tells you all you need to know about this scenario. That alone tells you that this doesn't make sense.
"Daniel Cormier's injury should have nothing to do with the featherweight division. So that's the why. They stripped Conor McGregor because Daniel Cormier got injured, and they needed something to headline this pay-per-view in December in Toronto."
McGregor's stripping of the belt was announced during Saturday's UFC event in Melbourne — where it was misidentified as being "relinquished". The entire process, which has left Jose Aldo as the undisputed champion at 145-pounds, has been a messy affair.
And while many fans point to the UFC looking for an opportunity to strip McGregor of one of his belts, Helwani believes the decision is indicative of the promotions ulterior motive.
"The UFC doesn't have the confidence in the likes of Max Holloway [and Anthony Pettis] just headline the show on their own, in a fantastic fight," Helwani said. "A fight we were all going gaga over when it was announced. Twenty five minutes of those two going toe-to-toe should be enough.
"They don't have enough confidence in [the fans] ability to realise that this interim belt they are instituting now, is nothing more than just a fugazi belt. It's just a promotional prop that they're putting in there to hope that they'll increase the pay-per-view buys."
Essentially, the UFC made a mistake.
"They botched it. They botched it epically," Helwani said. "They botched it because if you're going to go ahead and strip Conor, then Holloway – Pettis needs to be for the real belt. Holloway – Pettis needs to be for the real belt, and you say to Jose Aldo 'you're getting the first crack at the champion of this interim title, you've been talking about retirement, you've been talking about not fighting again, you've been talking about throwing fights, we don't know the state of your career is, so we're making Holloway – Pettis the real championship fight, because we just stripped the biggest draw and the biggest star of his belt'.
"That's what they had to do. The only way that this could have been seen as controversial, as a negative towards Conor, is if they let Conor do it himself.
"Conor McGregor has been saying time and time again 'I want to sit down and talk with the new owners'. They have yet to do that as of today, and so they announce that Conor McGregor has relinquished his belt, they never agreed to that. All they have done is empowered him more than ever before. He has turned into a sympathetic figure."
Since Saturday night, McGregor has remained publicly silent, despite fans waiting with baited breath to hear his thoughts. For Helwani though, he doesn't want the Irishman to speak just yet.
"The fact he hasn't said anything since is the perfect move in my opinion," he said. "Because his silence is deafening right now. He is telling you, by not saying anything, that he is very upset. The why and the how were the big mistake in which they did it, in my opinion. They needed to get Conor on board, they needed to fly to Dublin and needed to give him the respect.
"It's a disservice to Holloway and Pettis, who are going to have an amazing fight in a couple of weeks, it's a disservice to Jose Aldo, and it's a disservice to Conor McGregor."
Comments
comments