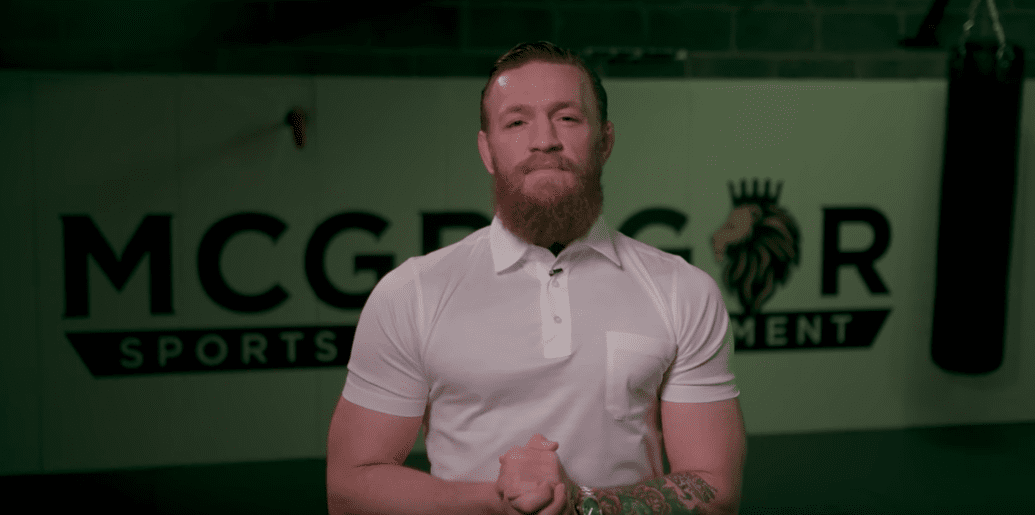 It was announced late on Friday by Taoiseach Leo Varadkar that Ireland is entering a two-week phase of extreme limitation of public movement in the latest measure to help combat the spread of Covid-19. 
These are the most stringent steps yet to be implemented to Irish society to mitigate the transmission of the virus which has brought the world to a near complete stop in recent weeks. The new measures include imploring people to remain within their homes, while only allowing people to travel briefly within a 2 kilometre distance of their home for exercise activity.
The over-70's in our society are now in 'cocoon' status, meaning that they are expressly forbidden for leaving their homes under any circumstances barring emergencies, while all non-essential travel has been outlawed.
The updated measures follow Conor McGregor's recent calls on the Irish government to implement stricter rules for dealing with the crisis and, shortly after Varadkar's public address, McGregor released a video in which he expressed his support for the steps and implored the Irish public to abide by them.
"Hello everyone, hello Ireland," McGregor says. "We have now entered a more substantial lockdown and I am pleased to see it. You see, if you do not enter the game you cannot win it. We have now entered this game and with strict adherence to the methods, we will win. To the Irish public: we must abide by the legislations put forth tonight by our leaders: no more than two kilometres from home, no unessential travel and full closure of all non-essential business.
"Now more than ever we must abide by this and I pray for the health and safety of our country that we do. The fate of our lives and the lives of our loved ones depends on it. Together we must encourage home workouts and we must encourage healthy, immune-boosting nutrition plans.
"We have incredible experts on this island to aid us here and I urge all to come forward and promote their ways. We need meal plans, as well as the necessary vitamins we should be taking to boost our immune systems. We need small space exercise programs available to the public and we need it for all levels of fitness. I suggest body weight work, the need for no equipment. There are amazing workouts to be had here. Plan your workout, put your music on and give it your absolute all.
"While we remain distant and in isolation, we must still remain active. We must remain active and we must equip our immune systems to operate at their absolute best. Correct nutrition and good physical activity is how we do it.
"The ceasing of public transport and all non-essential business has now taken place and that is just what we need. I applaud. However, I would like an understanding of our airports. Our airports must shut. The only flights to take place is to be for our essential medical equipment or to bring our medical staff from abroad back home to support. The airports must be shut for everything else.
"To those attempting to get home, please make wherever you are your home. You are doing your country an incredible deed by staying put. We will get past this. It is not forever, but it is for now.
"Tonight our defence forces have been mentioned as a possibility in assisting our 15,000 gardai available — but only if necessary. However, it is necessary. I urge our government to utilise our defence forces alongside an garda siochana and for full 24-hour patrol. We can not go by chance here. Any less than full adherence to these newly put forth methods by any members of our society will not only be a mockery of what we are attempting to do here, it will put the rest of our great nation in danger. We just cannot take that chance. I know our nation will comply, but please use all of our available assents to assist with this.
"This latest lockdown measure has been announced for two weeks. If we do this fully and correctly, in two weeks time we will have a massive drop in cases — and it two weeks time, we will likely need to endure more to gain the ultimate victory.
"I am now going to quite Yaneer Bar-Yam. Yaneer is an MIT-trained physicist and complexity scientist who studies pandemics. He warned about global pandemics due to increasing travel for 15 years and he recommended community-based monitoring of symptoms to stop ebola in West Africa in 2014. And it worked.
"Quote: 'The fastest, and even the only way to contain Covid-19 in Ireland, America and around the world is a five-week national lockdown. Lockdown would sharply reduce cases. During the first two weeks of a lockdown, infected individuals will either recover from mild cases of Covid-19 at home, or seek medical attention for the 14% of cases that are severe. During the third, fourth and fifth weeks any newly-infected family or co-habitants of infected individuals will recover or seek medical attention and their isolation will prevent further spreading. By the end of the lockdown, the number of infections will be a small fraction of what they are now.'"
"This is from a skilled specialist with a winning record in stopping one of these viruses already. We have two weeks ahead now. I pray we adhere to all these adjustments and make our way into the final three week phase. After that, we will be moving out again into our new world.
"To President Higgins, to all of our leaders — close our airports. Utilise our defence forces. To the nation, abide by these measures impeccably and prepare for five weeks of it. After that, we are free. Five weeks to freedom. We can do this. The countdown begins now.
"Godspeed to us all."
Comments
comments