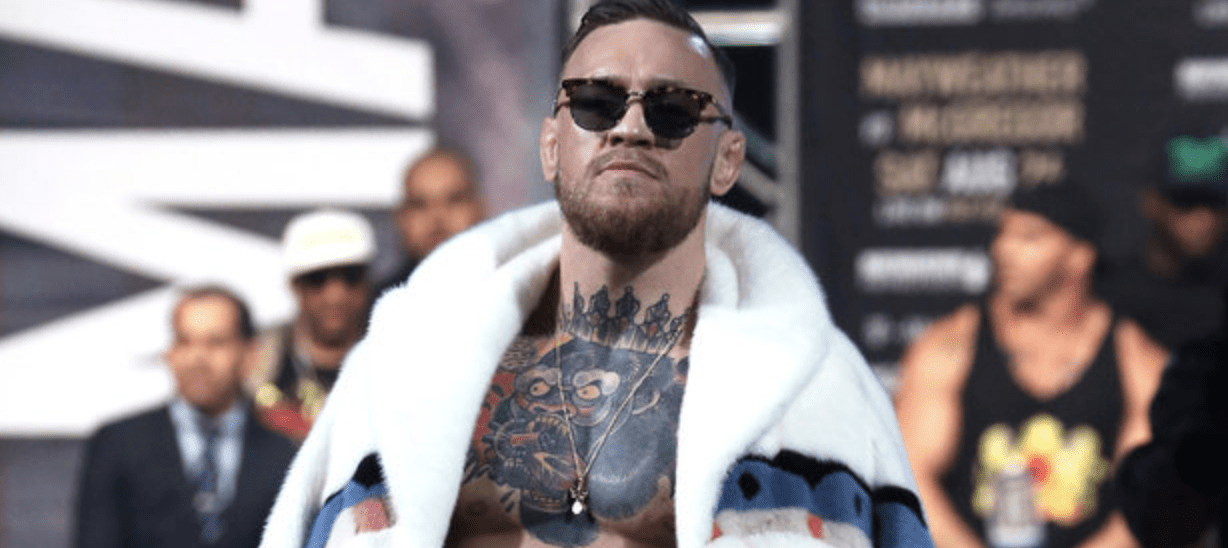 Conor McGregor enjoys the finer things in life. From watches to wallets, the UFC champion has repeatedly shown a panache for stepping out of a sports car wearing the latest from the fashion industry's most famous.
With that being said, McGregor has had a long relationship with the iconic brand Gucci, using the brand's style to provide either some of his most flamboyant pieces, or some of his more casual day-to-day wear.
So without further ado, check out the top ten Gucci outfits as worn by Conor McGregor.
1. Gucci Floral Check Print Bootcut Pant
Most famously worn at the UFC 205 Press Conference in New York, McGregor showed up (slightly behind schedule) and stole the show in these floral check print bootcut pants (and the infamous Gucci Mink Fur Coat).
2. Printed Sneakers With Ribbon
Nothing sets off an outfit quite like a decent pair of shoes. From the Gucci 2017 Ace Sneaker Collection, these sneakers feature vibrant blue printed upper, red metallic heel, and a matching Gucci ribbon. Colourful enough to get the eyes looking down, and stylish enough to have them appreciating the view.
3. Teddy-Bear Pattern Scarf
Accepting the ESPY award for Best Fighter in 2016, McGregor wore a woolen scarf with a teddy-bear pattern scarf in blue and yellow. While Conor Jr. hadn't arrived on the scene yet, maybe this was McGregor's way of preparing for fatherhood with a child friendly design.
4. Jungle-print linen T-Shirt
Something a little more casual now. While still in keeping with their artistic patterns, a Gucci T-Shirt (even one with a jungle print) feels more low key than some of the other pieces worn on this list. This piece is perfect for a sunny day or a beach holiday.
5. Tortoiseshell Flip-Up Aviators
Now not everyone can pull this off. An older school feel with the flip-up sunglasses, for something considered an accessory to an outfit, these tortoiseshell aviators are quite the statement. While flip-up shades seem to be few and far between these days, if you can pull it off with confidence, there's a certain cool factor to be found.
6. Pink Wool-Blend Sweater
One for everyone here. A basic and simple pink Gucci sweater can both complete an outfit, and go well with various other items of clothing. From the jeans McGregor is wearing here, to a pair of white shorts, a well fitting sweater can be a winner on for a night out on the town or a night in on the sofa.
7. Ace embodiered Sneaker & Nylon Wind Breaker
A two for one here. While the nylon windbreaker is certainly useful for navigating the Irish weather, the sneakers show once again why Gucci shoes are up there with the best. A simple design, with clean imagery makes a pair of white embroidered sneakers complete an outfit — just remember to wash after wearing!
8. Gucci Animalium Embroidered Sweater
A basic design with a dash of flair. Similar to the pink sweater above, this item has a slim-fitting shape, with a typical Gucci embroidered design. A great one to add just a touch of eccentricity to make you stand out.
9. GG Intarsia Sweater
Another sweater here, and it's an old classic modernised for 2018.  It's inspired by Gucci's original logo from the 1930's, and has been updated for the Cruise 2018 range. Similar to the previous two jumpers on this list, it's a well fitting piece of clothing — although slightly less slim than the others.
10. Printed Satin Track-Suit
Why not end on a high note? As seen when McGregor rented out an entire fun fair for his family and friends, the UFC champion wore a matching tracksuit with the Gucci 'GG' Cubed Motif, as seen on various pieces being brought out in 2018. Not an easy one to pull of this, but if you can, few can rival the outfit on your day out.
Comments
comments