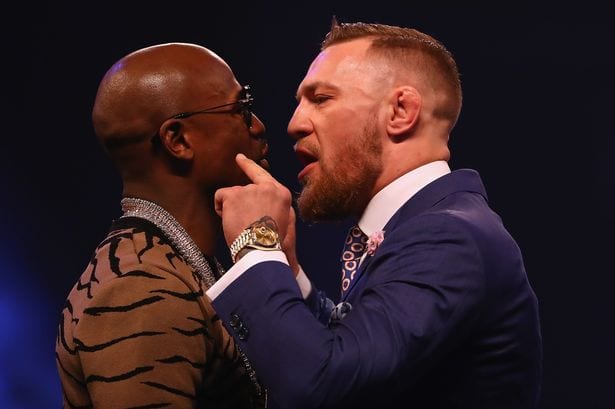 If you didn't tune into the live press conferences, then you definitely saw Conor McGregor's style on social media, writes Olivia Hayes.
Throughout the four-day tour, where the UFC champ touched down in LA, Toronto, Brooklyn and London, he certainly showed off his unique and exuberant style, and we have to say, nobody can do it like him.
On the first day of the press conference tour, Conor wore a bespoke suit from his upcoming clothing line 'August McGregor'. And as he pointed out while verbally taking down Floyd Mayweather, Conor had 'fuck you' embroidered onto the jacket and trousers, which were made to look like pin stripes.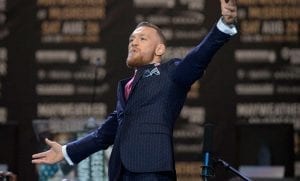 Some say he got the last word in without even opening his mouth that day… The three-piece suit is now available to buy on the August Inc website, coming in at a cool €6,500.
On the second day, Conor chose another suit from his upcoming line. This time, he opted for an aqua blue check suit, with a white shirt and camel-coloured brogues. This suit didn't disappoint either, and certainly showed up against Mayweather's tracksuit.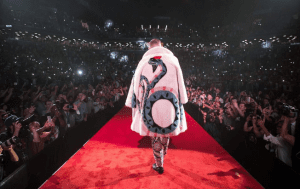 But, on day three, McGregor really stole the show. The two-title champion turned up in a custom Gucci mink polar bear coat with the signature Gucci snake emblazoned onto the back.
He teamed it with yellow and white flowered Gucci trousers and black loafers, all the while letting his sculpted torso make an appearance.
And I think we can all agree that this outfit was the show-stopper of the four-day event. On the last day, Conor resorted back to his classic three-piece suit, this time donning a navy number with a white shirt, and a navy and pink pattered tie. Floyd turned up wearing a tiger print jumper, so it really goes without saying who won the style points this time around.
Overall, Mayweather doesn't have a patch on the champion's style, and we can't wait to see what other ensembles Conor has in store for us.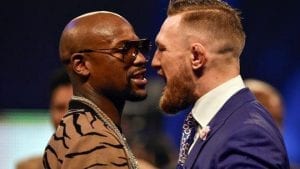 Words by Olivia Hayes
Comments
comments