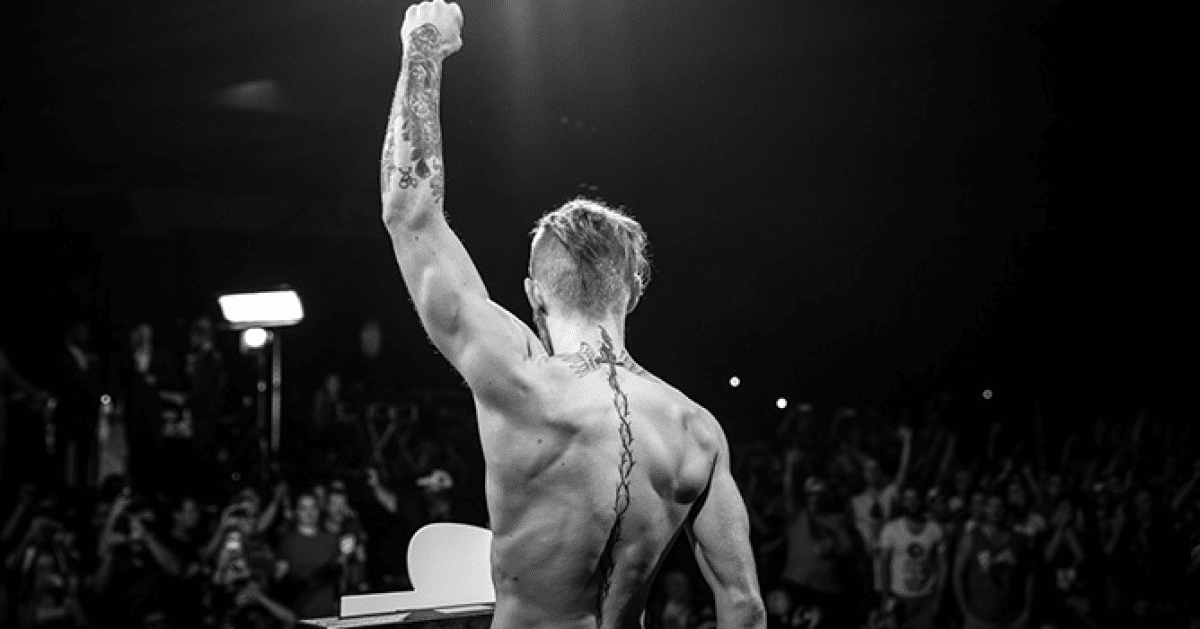 "'Do you believe him? Did you buy the ticket?', when Rose said that to me my fucking head exploded and all I could was, 'oh shit, I don't want to have to fucking think about this all night'", said Pat Barry, speaking on a recent episode of The Joe Rogan Experience Podcast about the mind-games employed by his partner Rose Namajunas' UFC 217 opponent, Joanna Jedrzejczyk.
"We deflected everything (up until that point)," Barry continued. "The knuckles in the mouth [at at media event] and the crazy shit that she was saying but for a good three or four minutes Trevor, Tony, Rose and I all sat in the locker room [and] that was the little thing that could have fucked everything up."
As fate would have it Jedrzejczyk's mental riddles failed to have a lasting effect on Namajunas' focus. The fight ended by her hands with a TKO in the first round.
And while Rose herself acknowledged that the thirty year old Pole was a 'jedi master' at mental warfare, the Milwaukee mixed martial artist was quick to point out that she too had success in that department.
Joe Rogan, who officiated the final face – off, was quick to agree.
"You fucked me up and I was about to interviewsy you," Rogan confessed. "I'm like, she's got this thousand yard stare and I was like 'what were you sayinh?' and you're like 'I was saying the Lord's prayer'. It was like a devil and a priest, the two of you together. It was like you were doing an exorcism. The way you handled it was very interesting because most people get in her face too [and] I think that emotional conflict,all the extra energy involved in that, it fucks with people's heads."
Rogan's insight led to coach and trainer Pat Barry admitting that "ghosting" Jedrzejczyk was a large part of their game plan.
"I think that over Joanna's career she came in as a silent killer who was destroying everybody and then she found out if I start talking shit to someone, they get fucked in the head before the fight even happens," Barry says
"And it worked and it worked, so it got to the point where that one weapon right there almost replaced some of the ferociousness in her fighting. That is why the game plan was always to ghost Joanna no matter what happens. Like we know that she needs a reaction. She's looking for something. No pictures, no videos, no social media. Like she doesn't exist."
Yet the part that psychological warfare plays in dictating the results of fights across all of combat sports can't be denied.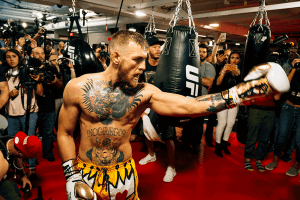 "The supreme art of war is to subdue the enemy without fighting." – Sun Tzu, Chinese general, military strategist, philosopher and author of the Art of War.
The term psychological warfare (PSYWAR) is used to "denote any action which is practiced mainly by psychological methods with the aim of evoking a planned psychological reaction in other people". It has been used for centuries in battle to gain an edge over an opponent. Take one of the earliest examples of psychological warfare, which can be attributed to Alexander the Great of Macedonia.
Finding that his army had been stretched too thin, leaving him vulnerable to losing to a large opposing force, he cleverly instructed his armorers to make oversized breastplates and helmets, large enough to fit men who were seven to eight feet tall.
When the opposing forces came across this giant armour (which Alexander had purposely left behind), they decided against following, believing that they would inevitably be defeated by such a monstrous force.
Alexander's tactics are a perfect example of how intimidation can dictate the outcome of a battle – in this case, it prevented it altogether, resulting in an unscathed victory for his army. The other tenets of PSYWAR include discrediting an opponent, provoking doubt within their psyche, and exerting a sense of invisible control – strategies which have been employed by many of the greatest fighters who have ever lived.
Iron Mike Tyson and Rory MacDonald – Intimidation 101
If an opponent came to shake his hand before a bout, Tyson, who holds the record as the youngest boxer to win a heavyweight title at twenty years old, was taught by trainer Cus D'Amato to ignore it. He would scowl at people as they walked by.
"He's not a soldier," Teddy Atlas, Tyson's coach in the amateur days, is recorded as saying. "He's the Trojan Horse. He's the guy who knows how to sneak into these guys consciousness to completely strip them of any chance they could have of performing."
Current Bellator welterweight champion, Rory MacDonald is another who is renowned for his heart-stopping death stare in advance of bouts.
"I will take that belt from you, and I will take your health," MacDonald politely informed the division at Bellator 179, before going on to then defeat then-champion Douglas Lima.
Provoking Self Doubt – Mohammed Ali
In his lead up to the Rumble in The Jungle, three-time heavyweight title winner Muhammad Ali tells opponent George Foreman via a camera lens, "Sucker, you ain't nothing. You too ugly to represent us coloured folks."
Inside the ring itself, following a barrage of shots fired from Foreman for eight rounds, a thirty-two-year-old Ali leaned against foreman and whispered in his ear "George, is that all you got?" before punching him in the face, and winning the bout.
Yet, while the efficacy of psychological warfare in fighting can't be denied, when it crosses the line and becomes inherently personal, it brings into question the notion of sportsmanship. Multiple World Kickboxing and Irish Open Champion Caradh O' Donovan, has first hands experience of such below the belt tactics.
"I guess at a high-level of competitive sport there is always going to be some mind games between fighters and most of it doesn't really bother me," she said. "Sometimes it does cross the line though. I've spoken about how I've a hidden disability called Crohns Disease, and how it has been one of the biggest challenges in my life to compete while managing it."
"One of my opponents thought nothing about slagging me for having a disability and publicly humiliated me. "It completely messed up my head. To be honest it was a big learning experience for me because it was frustrating that I let it get to me and didn't perform well at all. I was so shocked that I forgot to stick to my tactics and got beaten by someone who I've beaten many times in the past."
Having made a stellar transition from kickboxing to karate, O'Donovan's experience has not had a lasting negative impact on her ability perform, as recent performances have placed her firmly on track to qualify for the 2020 Olympics.
With her loss firmly in the past, what is her view nowadays of the incident?
"I think it's been good", she opined. "I know it wouldn't affect me the same way again and luckily it wasn't a really important fight. To me, that's the lowest of the low but really it says more about her character than anything else. I would never want to win like that. The best thing to do I think is to try and not take it personally. It helps to remind yourself that usually it's the least talented athletes that need to resort to those tactics anyway."
Love it or hate it, the mental side of the fight game, which often goes hand in hand with trash talk, mink coats and flying bottles, is here to stay.
As to how Namajunas and Jedrzejczyk will approach their UFC 223 rematch? Watch this space.
Comments
comments