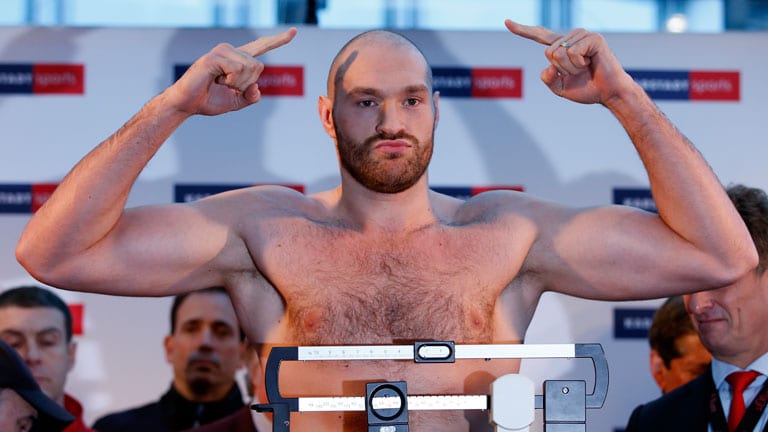 One of the factors which has been somewhat overlooked after Tyson Fury's outstanding performance in the WBC world title bout with Deontay Wilder last weekend is the single-minded struggle he endured to get back into fight shape after years of not paying attention to his physique.
As Fury explained in the run-in to the fight, his victory against Wladimir Klitschko in which he won three of the four recognised iterations of the world title, he fell into a deep depression afterwards — in part, he says, because he achieved his goal of winning the world title at a young age and as he saw it, there was nothing left to do.
He abandoned his exercise regime, overate and formed an uneasy relationship with drugs and alcohol which swelled his world championship frame well past the 400-pound mark. The words 'professional' and 'athlete' didn't seem to apply to him anymore.
A year ago, in part because of an interview he saw of Wilder saying that Fury wasn't a challenge anymore, Tyson decided to get back to work — and we saw the culmination of that last weekend, in what was one of the most exciting heavyweight title fights in years.
And when Fury stepped on the scales on the eve of the bout to register a weight of 256-pounds, some might say that he had already won.
But how did he shed those pounds? Speaking earlier this year Fury explained to Piers Morgan on 'Good Morning Britain' that his techniques weren't all that difficult.
"A lot of black coffee, that's it," Fury said. "I basically follow a low carb diet."
Ricky Hatton, another world champion boxer from the UK and Fury confidante, commended his friend Fury on his dedication.
"He has stuck at it. When he first did it, I thought he'd do it for a couple of months and then he'd be back on the piss. The only place I've seen him is in gyms. I know where he goes and he's been nowhere near.
"He was good when he was massive. He still had the movements and the sharpness and the speed of hand. But now he's just looking even better."
So, what is the takeaway from this? It is that you shouldn't overthink your athletic goals, even if those are to simply lose weight and not necessarily fight for the world's heavyweight title. Fury's regime was little more than healthy eating, doubled with a proactive exercise regime.
And that is something that practically each and every one of us can undertake — if you actually want to, that is.
Comments
comments