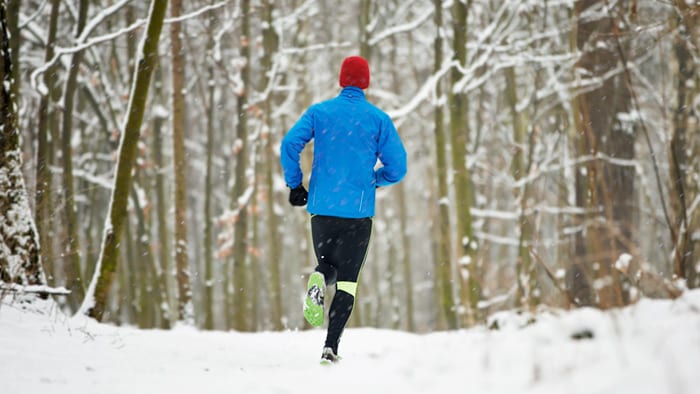 As we get closer and closer to the dead of winter with plummeting temperatures and dwindling daylight it can be easy to let your exercise goals slip. 
However, a pursuit of fitness is a year-round exercise. We don't want to let months and months of good work slip just because it is a little more unpleasant than usual outside, a common trap that newcomers to personal fitness can make. So how can you make sure to keep your motivation levels high when your internal monologue is telling you to stay warm, reacquaint yourself with your couch and binge on a new Netflix series?
There are a few tips you can harness to give yourself a head start for keeping fit in cold weather.
Wear correct gear
We don't want to just be warm, we want to be dry. Your body temperature will plummet if you get caught in a rain shower and your workout gear gets soaked. If you are cold and miserable the chances of you cutting your workout short because of sheer discomfort rises, not to mention raising the risk of hypothermia. Avoid cotton clothes as these retain moisture and instead look for workout gear made from synthetic fibres which can repel moisture. Bright colours are also recommended to help you remain visible when the evening gets dark.
Protect your extremities
Gloves, hats and thick socks can be a lifesaver as when you are overly-cold, your body will funnel blood to your organs at the expense of your extremities. It is up to you to keep these warm and keep the cold at bay.
Make sure to warm up
Warming up is important regardless of the temperature outside as it compels your blood to flow to your various organs and muscles which can help reduce injury risk. You need to do low-intensity warmups which mimic the exercise you are about to do.
Keep hydrated
A common mistake people make is that they don't drink as much water while exercising as they might do during warm weather but you will still lose as much fluids as you do in the summer, so remember to take on board a sports drink if you are planning on an hour or more of activity.
Measure your breathing
Being active outdoors during cold weather can be difficult and one of those reasons is that breathing in cold air can sting. This is because your airways close a little during lower temperatures and it makes breathing more difficult.  Breathing in through your nose can help raise the temperature of the air but this becomes more difficult as your exercise intensifies. One tip is to wrap fabric (bandana, scarf etc.) around your mouth as this will trap water vapour and assist regulating your breathing.
Comments
comments