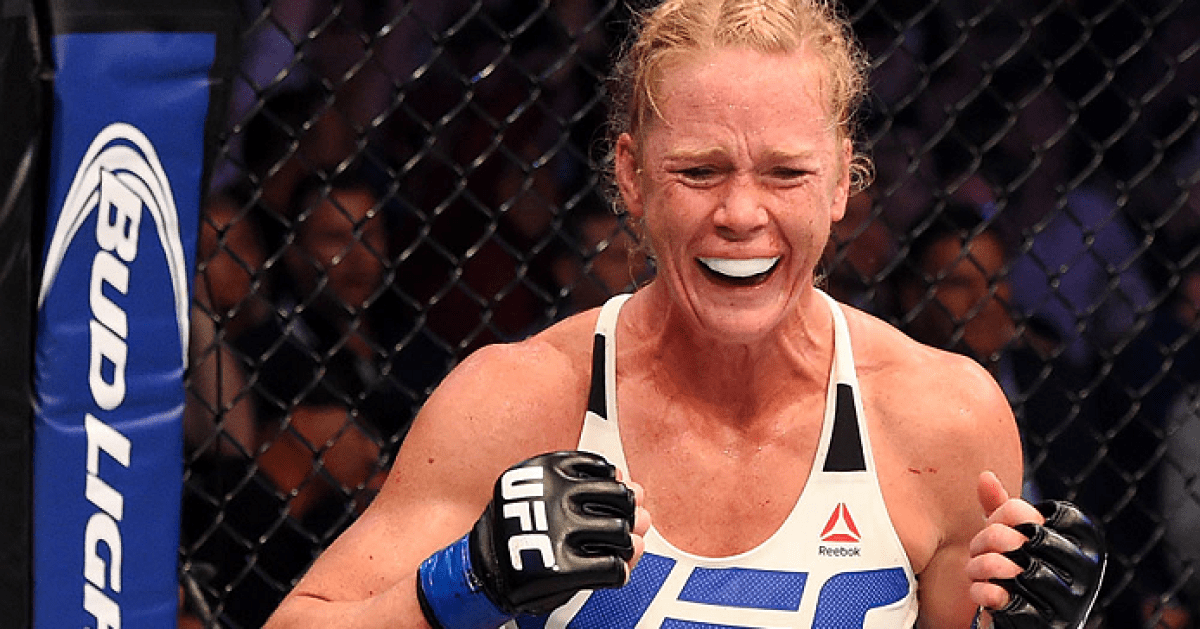 At UFC 219, 'The Preacher's Daughter', Holly Holm, is set to face Brazilian knockout artist Cris 'Cyborg' Justino, perhaps the most feared female fighter to ever set foot in the Octagon.
Holm, a former holder of multiple boxing titles across various weight classes, hopes to emulate her success in the ring by becoming the first female fighter in UFC history to win titles in multiple divisions. While now on the cusp of making history, Holm has had to deal with her fair share of setbacks since shocking the world with that devastating KO of Ronda Rousey in December 2015.
Yet despite suffering three back to back losses in the cage, the Albuquerque native has persevered in the sport, refusing to shy away from defeat. On June 11th of this year she was rewarded for her efforts when she returned to winning form with a decisive victory over Brazil's Bethe Correia in Singapore at UFC Fight Night 111.
The way in which Holm has handled her losses is in stark contrast to former bantamweight Champion Ronda Rousey, following back to back defeats at the hands of both Holm and Amanda Nunes. Media silence and lengthy breaks from the sport have followed. To this day, it is not known if Rousey will return, with many speculating that she will retire following what is now an ever increasingly likely move to the WWE.
Taking the above into account, how can we ensure that a defeat does not become a permanent setback?
Face the music
Following her controversial loss on February 11th to the Dutch former Kickboxing and Muay Thai Champion, Germaine de Randamie, Holly Holm surprised the awaiting media by appearing at the post fight press conference, fielding questions with an openness and a vulnerability that ultimately conveyed tremendous strength.
Perhaps providing some insight on her decision to do so, she recently spoke at a UFC 219 media day about what she refers to as one of the most moments in her boxing career.
"When I got knocked out by Anne Sophie in boxing….I had no time to even doubt myself," she began, the emotion in her voice evident. "My coach pulled me aside…he said 'Holly listen, you're going to go out to this press conference…you're going to face this…let's fix the problem right now. You're capable, you can beat her.' It changed my mindset right there."
Another female fighter who chose to face the music straight after a loss was six-time former strawweight Champion Joanna Jedrzejcyzk, following a first round shock stoppage at the hands of underdog Rose Namajunas. When a member of the gathering press queried her decision to attend, a visibly emotional Joanna stated, "You deserve that. We cannot only be here when there is a good outcome. I will keep my head up. Maybe I am crying now but I am not going to cry (always.) Like I said, I will turn the page. I will be back stronger."
Accept a loss and use it to your advantage
Sparked by his narrow defeat and in turn the loss of his bantamweight belt to now former Champion Cody Garbrandt at UFC 207, Dominick Cruz spoke about the importance of accepting and learning from defeat while speaking on The Joe Rogan Experience podcast.
"Loss is a part of life. Accept it right the second it happens, the next step is growth", he said. "As long as you embrace it and don't make excuses for it, then you can look at what you did wrong and take it in. What's the point of a loss if you're not going to grow from it and get the most out of it?"
Following on from Ronda Rousey's devastating defeat to Amanda Nunes in December of last year, many believed that her inability to accept and learn from her loss to Holm was the reason for her downfall.
Don't tie in your whole identity with being a Champion
Speaking about Ronda Rousey's decision to stay away from the press following her defeat, Dominick Cruz also commented on her inability to separate herself from the 'Champ' status.
"You can't be solely connected to fighting as your whole being, otherwise you're over when it ends," he advised listeners. "She's using the fighting as an identity. With that championship belt she is Ronda Rousey, the Ronda Rousey. Without the Championship belt we don't know who she is, she won't come out."
And so, while there is undoubtedly something to be said for avoiding unnecessarily painful situations in life, what these UFC athletes have taught me is that without initial pain, there can be no healing.
While loss is a bitter pill to swallow, it is our ability to accept and learn from defeat which ultimately defines us. By rolling with the punches, and accepting a loss from day one, we not only have the opportunity to shape the narrative, but give ourselves a chance to publicly square our new-found reality.
Gives a whole other meaning to the hurt business, don't you think?
Comments
comments