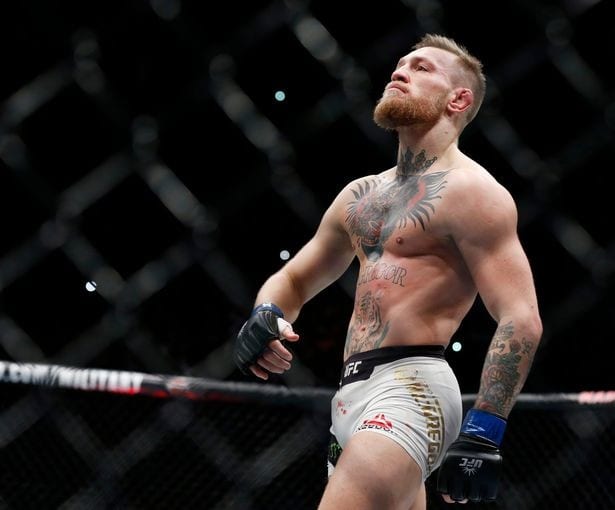 It was MMA commentator Joe Rogan who first introduced me to the term 'gym fighter', writes Christine Allen.
"We've all known these guys that were phenomenal in the gym but for whatever reason they weren't able to win in competition," He declared during a recent episode of his podcast, The Joe Rogan Experience. "You'll see them in the gym and think 'this guy is a world-beater', but they can't beat anybody in a competition."
When asked by one of his guests to elaborate on the reasoning behind this he opined, "It's all psychological. They are imprisoned by their own fears and doubts. They don't have the confidence to rise to the occasion."
You need look no further than both current and former UFC champions of every division to witness confidence in action.
And while fighters like McGregor and Joanna Jedrzejczyk are often labelled by fans and media alike as 'arrogant', 'cocky' and 'disrespectful' to opponents, each exudes a tremendous amount of self-belief which has ultimately resulted in success.
So how do we garner the mindset of a champion?
Be aware of how you carry yourself
While you don't necessarily need to enact McGregor' s favored 'billionaire strut' in public, how we carry ourselves can impact the way in which we feel and therefore is something that we should be aware of.
A study conducted in 2010 by social psychologist Amy Cuddy found that faking high-power poses caused people to become more confident and willing to take risks, that their testosterone levels rose and their cortisol levels decreased significantly, with low power poses causing the exact opposite reaction. If you recall how most MMA fighters present themselves, perched on the edge of the Octagon and while being announced, you will note that their arms are often raised, their chins held high.
Take Ronda Rousey's pre-fight stomp and body slaps mid introduction for example. These fighters are raising their confidence, stature and self-belief via their body language.
Visualisation
McGregor is a strong advocate of the 'law of attraction', a philosophy which reached the mass market in 2006 when Rhonda Byrne's bestselling self – help book, 'The Secret', was released. Nicknamed 'Mystic Mac' for his uncanny ability to predict how his fights will play out, Conor spoke about the Law following his stunning KO victory over Jose Aldo at UFC 194.
"If you can see it here, and you have the courage enough to speak… it will happen. I see these shots… I see these sequences and I don't shy away from them. If you truly believe in it… if you become vocal with it… you are creating that law of attraction and it will become reality."
While some may dismiss the validity of this approach, research using brain imagery has concluded that neurons in our brains interpret imagery as the equivalent to real life action.
In fact, one study entitled 'From mental power to muscle power – gaining strength by using the mind', which was conducted at the Lerner Institute in the USA, found that mere mental contractions could strengthen body muscle.
Focus and preparation
"There is no opponent."
McGregor echoed the words of all-time great martial artist, Bruce Lee before his fight with the then reigning featherweight champion Jose Aldo. "There's no one. You're against yourself."
While Conor undoubtedly prepares for a myriad of scenarios that may play out with his opponent inside the cage, his focus is mainly on his own ability. This indirectly fuels his confidence.
Instead of expending energy on how his opponent will perform and what mindset they will bring to the fight, he directs all of that energy and focus into preparing himself both physically and mentally for the upcoming fight.
Knowing you have thoroughly prepared for any challenge on the horizon removes that feeling of helplessness and anxiety that is the result of a dependency on someone or something else for a desired outcome.
Now that we have a better idea of how to bring more confidence into our lives, how exactly can confidence benefit us?
Career
No matter your occupation, be it an entrepreneur or sales person, approaching your job with an air of confidence undoubtedly helps you to succeed.
In fact, a pilot study at the University of Melbourne found that the confidence levels of individuals at primary school were an indicator of how successful they would be in the workplace as adults. Lead author of the study, Freza Hasmath, had more than 100 interviews conducted of professional staff in Melbourne New York and Toronto. The study found that those who reported higher levels of self-confidence earlier in school earned better wages and were promoted more quickly.
Wealth
When you are confident, you are often winning in some shape or form, and people are inclined to invest in winners.
Take Floyd 'Money' Mayweather. With an undefeated streak of 49-0 at the time of the report, Forbes listed Mayweather as the richest athlete in 2016, valuing his worth at 340 million.
The confidence of one of the best defensive boxers to ever grace a ring is part of his branding, and it this, along with his bordering on arrogant personality, that sells. Not to forget 'The Notorious', Forbes listed Mc Gregor as the 24th highest paid athlete in 2017 – pre- Mayweather fight.
Happiness and Health
Believing in yourself, and being confident in your ability goes hand in hand with an optimistic mindset.
While we may view being happy as a natural result of being an optimist, studies have proven that being of a 'glass half full' mindset can also help us to live longer.
In research conducted at the University of Pittsburgh, women who were optimistic were found to be 14 per cent less likely to die from any cause than pessimists, and 30 per cent less likely to die from heart disease after right years of follow up study.
And so, while a UFC championship belt may be out of arms reach for the vast majority of us, through choosing to adapt a confident demeanour, envisioning our success and ensuring that we prepare for whatever may lay ahead, we are undoubtedly paving the way for our own personal 'W'.
Comments
comments