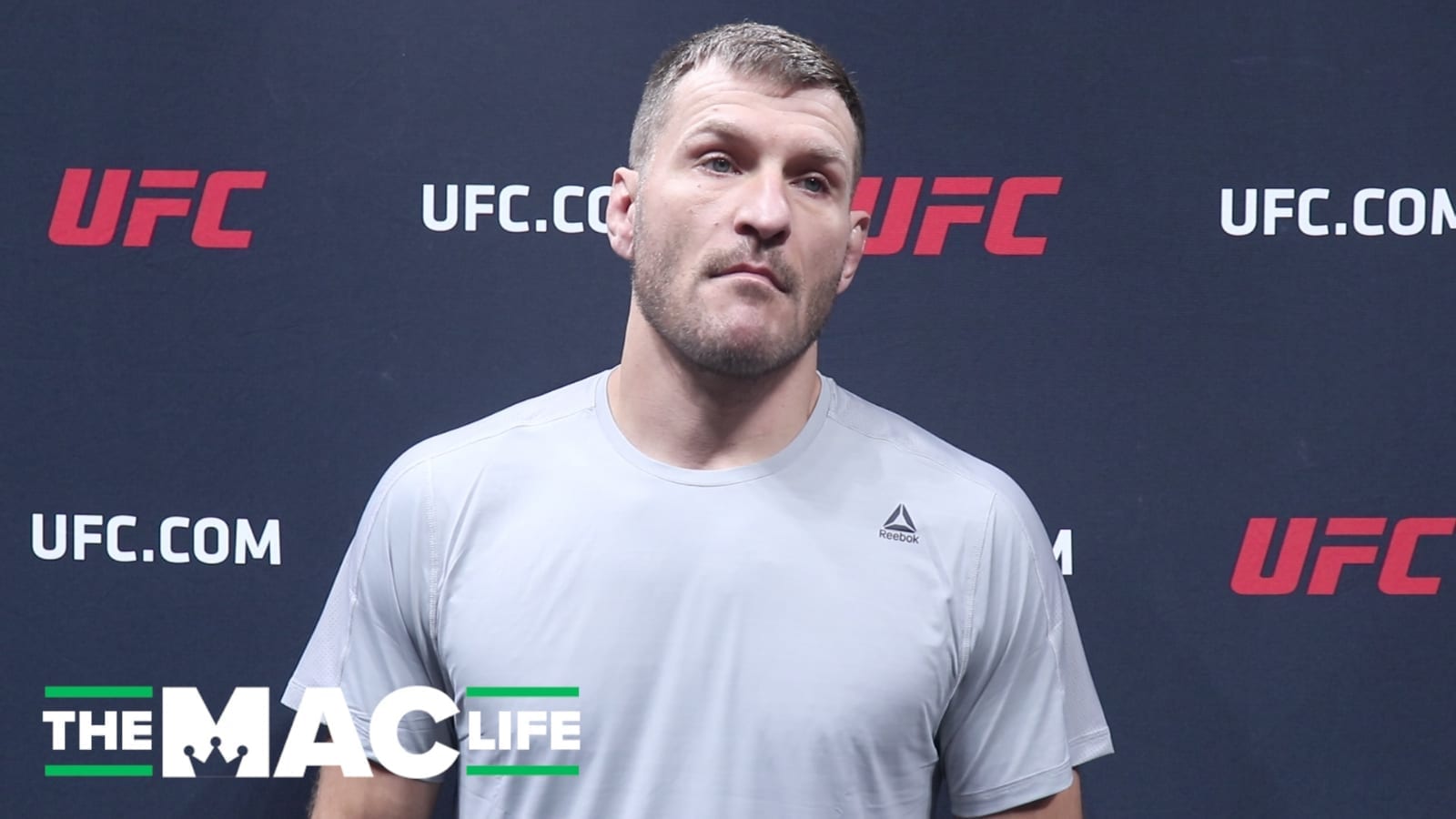 Not all things are equal when it comes to conditioning. 
Stipe Miocic, the former UFC heavyweight champion who will challenge Daniel Cormier this weekend in the UFC 241 headliner, is famous for the pace he sets inside the cage in a division in which conditioning can be a burden for fighters whose frames and muscle mass require a constant supply of oxygen in the blood in order to compete at the highest level of one of the most difficult sports on earth.
Heavyweights, particularly those who regularly must prepare for five-round bouts, need meticulous attention paid to their capacity to recover during a fight and in between rounds and, much like everything else in the fight game, there are no shortcuts other than hours upon hours of hard work in the gym.
So, ahead of Miocic's attempt to seize the title belt from Cormier, what has he been doing to maintain his ability to push through a 25-minute contest?  By undertaking a series of lung-bursting conditioning drills, of course.
View this post on Instagram
Jacob's Ladder Intervals
The ladder-like machine is set to a 40 degree angle during which its user must continuously climb a never-ending stairs. This requites constant use of the arms and legs (one of the few exercises to do so, incidentally) and will ravage calories from your system. It also engages your core and stabalising muscles far more efficiently than on a treadmill alone and will help combat the stress that similar exercises can place on your joints.
The hard work is worth it for Miocic. "I don't want to fail. I never want to fail in the cage, so why would I want to fail on this thing?" he says. Miocic will perform 10 x one minute intervals, never letting his pace drop below 100.
Medicine Ball Slams
Immediately after his ladder intervals, Miocic's conditioning coach will follow that up with 100 consecutive medicine ball slams, a full body exercise which teaches athletes how to generate and transfer energy through their core.
"When I get done with the Jacobs Ladder, to put more salt in the wound, they put (me) on this (Med) Ball Slam for 100 slams. That's more insanity—like (my body's telling me) you better get done with this. So I keep a good pace the whole time," Miocic says. "It's just more mental toughness for the fight. There are times where it's going to get terrible in there—things aren't going to go your way right away. Just gotta dig down deep and find it."
Find the appropriate weight for you. Miocic uses 25 or 30-pound balls.
Pull-ups with Punch Evasion
Fatigue is the enemy of any fighter. As you stamina drops, so do your hands and in this rough and cut world of mixed martial arts that can be the only invite needed to separate a fighter from his consciousness. To help simulate and combat this, he will undertake a program of pull-ups immediately followed by a pattern of punching and evasion.
This is designed to ensure that even if Miocic is sucking air in the cage, it is still second nature for him to keep his guard up.
"When it's all sucky in training and I'm tired and getting beat up, (I look back before a fight) and think there's no way this guy's going to beat me. I worked too hard to get here. I'll drive through whatever I gotta do to get through it." Miocic says.
You will get a prime example of how this level of conditioning manifests when Miocic meets Cormier in the UFC 241 main event on Saturday night in Anaheim.
Comments
comments