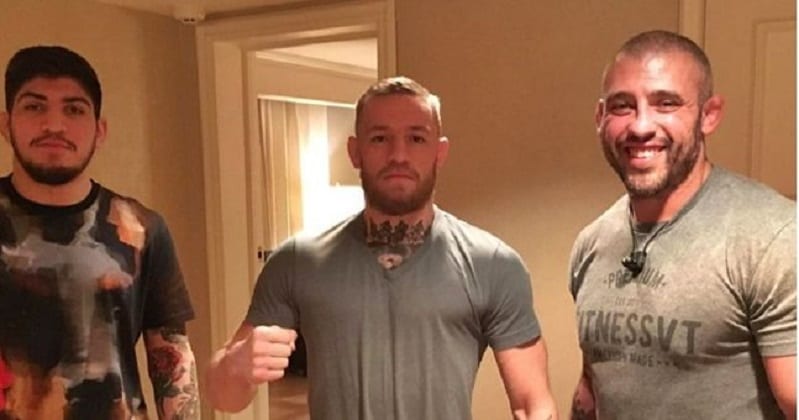 Conor McGregor has embraced the absolute latest advances in sports science in his preparations to take on Floyd Mayweather in Las Vegas next week.
The final leg of his training has taken place in the state of the art UFC Performance Institute, where McGregor has access to the latest technologies in fight preparation inside the 30,000 square foot, $14 million facility.
Another element of McGregor's preparation in which no stone has been left unturned has been the recruitment of famed nutritionist George Lockhart to oversee McGregor's diet in advance of the bout. Lockhart has worked with McGregor in his two most recent fight camps (Diaz II, Alvarez), forging a fine-tuned working relationship with the Irishman.
In an interview with Fox Sports, Lockhart outlined the nutrition strategy he devised for McGregor's first weigh-in as a professional boxer.
"With boxing we want to get him down a little bit more," Lockhard said. "There's not a whole lot of purpose to cutting a whole lot of weight. In MMA when you're on top of somebody, weight matters a lot more. In boxing, you don't have takedowns [and] you're not clinching as much. Speed is the most important thing."
As for exactly what McGregor is eating, Lockhart maintains that a balanced diet is key but there is one dish that his client has an affinity for.
"Last night I made him a lamb shank. He loves lamb, so I made a lamb shank last night. I gave him a lot of potatoes, I gave him a lot of rice. A lot of times it's either jasmine rice or basmati rice. He's eating a ton of salmon. Almost every meal has a lot of omega 3 and omega 6.
And will McGregor be celebrating a victory next weekend with one of Lockart's slap-up meals?
"I think after nine weeks of eating the same person's food I think the best post-fight celebration would probably be anything but something I've made!"
Comments
comments