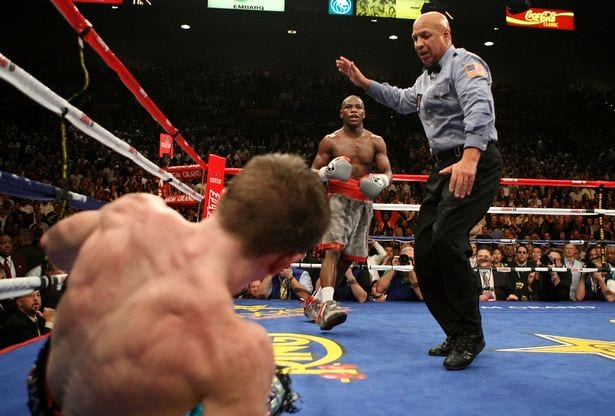 Ricky Hatton is one of more than 40 men who who have attempted, and failed, to beat Floyd Mayweather in a boxing ring.
Just under a decade ago Hatton, 43-0 at the time, traveled with a legion of his Mancunian brethren to Las Vegas to face Mayweather and despite a spirited opening couple of rounds, 'The Hitman' was eventually outgunned and stopped in the tenth frame. Following the bout, Hatton reasoned that the third man in the ring on that December night, Joe Cortez, didn't allow him the opportunity to fight on the inside.
Robert Byrd, a referee with a reputation for allowing the action to unfold and to only interject when absolutely necessary, has been appointed to officiate McGregor vs. Mayweather next week and Hatton maintains that this type of referee could prove crucial to McGregor's chances.
"If the referee lets him have a crack," Hatton said of McGregor's chances in an interview with UFC fighter Jack Marshman. "I think when I look back on it (my fight with Mayweather) I hope the referee lets Conor have a go.
"I'm not saying that I'd have won the (Mayweather) fight anyway if the referee had let me had a go. All you want is a fair crack of the whip. I think he must be thinking the same as me. Just let me have a fair shout and let me have a go at him. If he lets him have a fight with his strength as well, I think with Floyd at 40 years of age – we might see him dwindle a lot.
"If Conor can put his foot on the gas from there on in he might get a late stoppage or maybe even a points win. I think Conor will probably say I don't mind losing the early rounds – as long as bit by bit I can sap his strength and drain him – and slow him down a bit.
"You'd have to say with Mayweather's boxing ability the early part of the fight is Floyd's but eventually if he's given the opportunity by the referee to keep on him and keep on him, by the time it gets to round 6, 7 and 8 – then it might be Conor's part of the fight."
Comments
comments