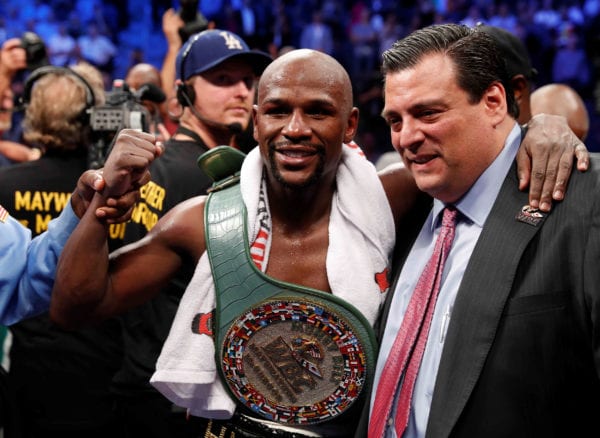 If fans and pundits around the world rolled their eyes at the recent announcement of Floyd Mayweather vs. Logan Paul, that didn't stop one of boxing's most influential figures to get excited.
According to WBC president Mauricio Sulaiman, the exhibition between Mayweather, one of the greatest combat sports athletes of all time, and Paul, a man who films videos and puts them on the internet, can only be a net positive for the sport of boxing. As of yet, we're not privy to any special rules for the contest, but whatever the stakes are on February 20 next year, Sulaiman will be offering his support.
"This is going to be something good for boxing. This is going to bring millions of eyes to our sport," Sulaiman told The Sun. "I appreciate Logan and Jake, they have worked hard. I will support Floyd vs Logan 100 per cent."
While nothing has been confirmed, the WBC did create a special one-off title for the recent exhibition between legends Mike Tyson and Roy Jones Jr, and if Sulaiman's enthusiasm continues, it wouldn't be hard to imagine something similar for this outing.
"This is going to be a great night for the fans worldwide as we are bringing something special to them through sports and entertainment," Mayweather said of the clash. "I have never shied away from doing things differently throughout my career and fighting Logan Paul in this special exhibition is just another opportunity for me to do it again."
Comments
comments