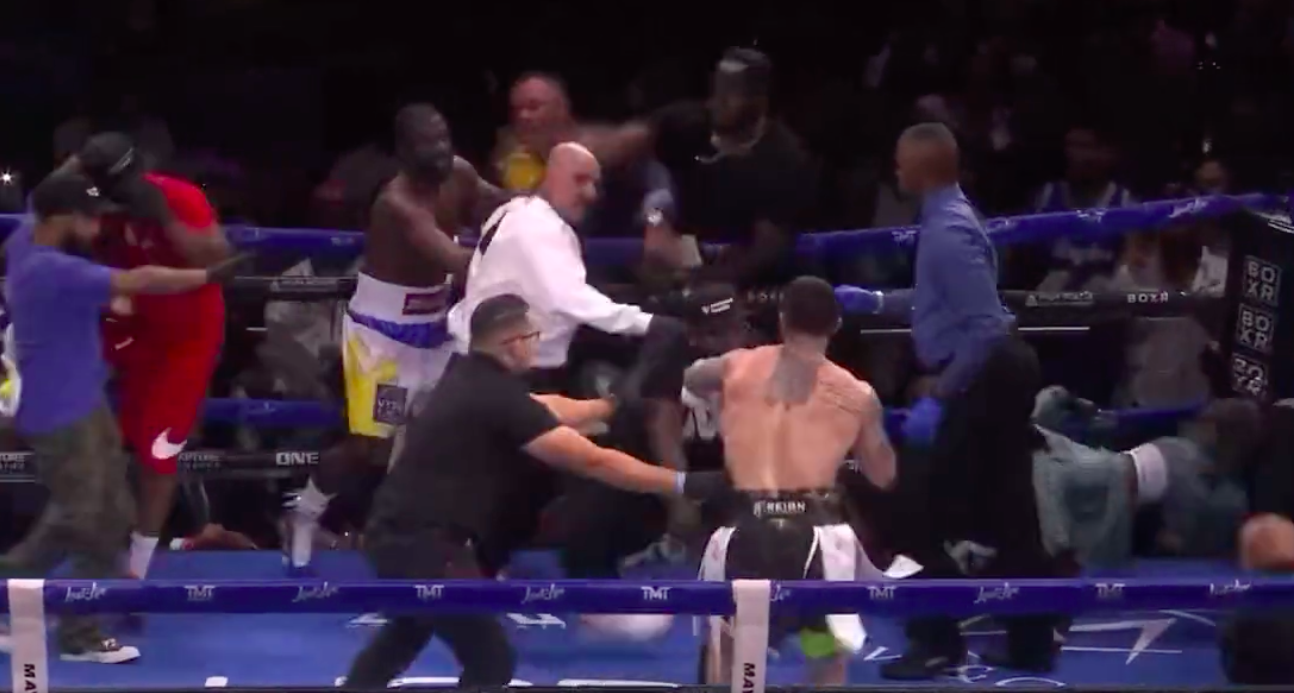 Floyd Mayweather's post-retirement bouts haven't often been the most competitive of endeavours. On Sunday, though, an actual fight came close to breaking out in the boxer's latest exhibition against John Gotti III in Florida. 
Mayweather has taken on various exhibitions since retiring from the ring in 2017, many of which — such as his recent bout with Aaron Chalmers — have flown significantly under the radar. But on Sunday, after referee Kenny Bayless called off the bout in the sixth round, Gotti III's entourage were none too happy and stormed the ring.
Gotti III also attempted (unsuccessfully) to attack Mayweather, after he apparently became upset at Mayweather's constant goading during the exhibition. Gotti III, who has competed in MMA, even at one point attempted to lock Mayweather in a collar tie before Bayless called off the bad-tempered affair after repeated warnings to both corners.
Check out the footage below:
Match hawt!!!! #MayweatherGotti pic.twitter.com/B9RjkCB47L

— DjLarry (@DjLarry876) June 12, 2023
Did not expect a big fight to break out in the ring….
👀👀👀#Boxing #MayweatherGotti
😂😂🥊🥊🥊🥊🥊🥊

— Danny (@dantheboxingman) June 12, 2023
Following the brawl that unleashed in the ring @FloydMayweather, heads to the back #MayweatherGotti pic.twitter.com/TM6RelWej1

— Sporting News Fights (@sn_fights) June 12, 2023
well the fight and entire event is over….🫠🫠🫠 #MayweatherGotti #mayweather pic.twitter.com/QwFZmqX2ZD

— belle ☻ (@esabelleeden) June 12, 2023
–
Comments
comments