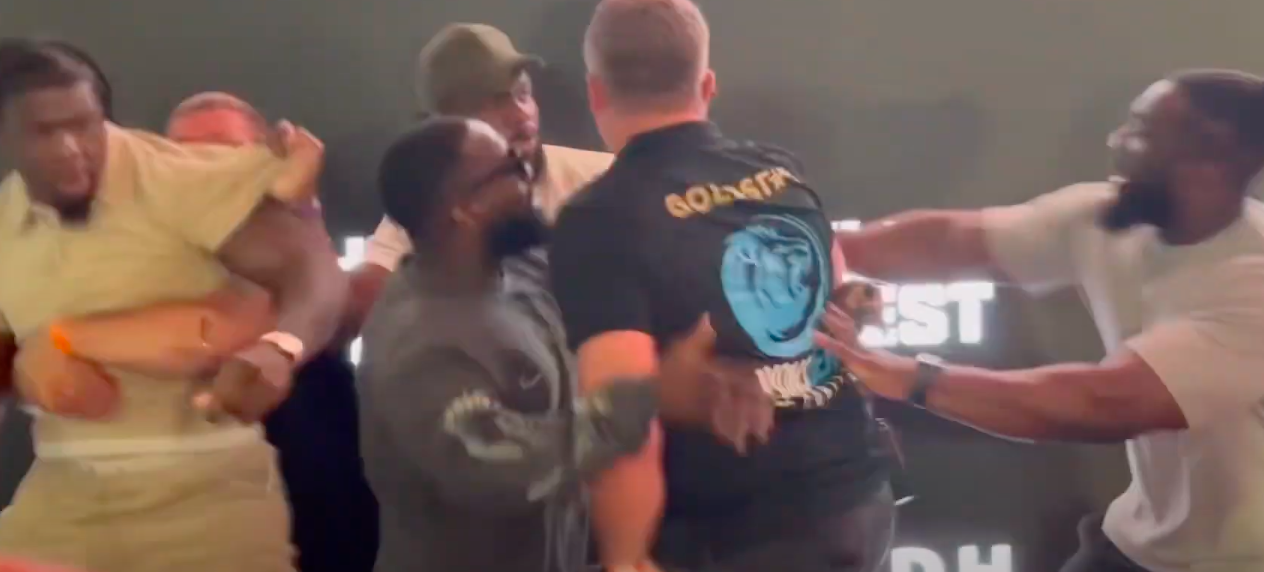 As Gus Johnson might say, sometimes these things happen in MMA boxing.
In Riyadh, Saudi Arabia on Thursday ahead of the first press conference to promote the upcoming cross-codes boxing match between WBC heavyweight champion Tyson Fury and former UFC heavyweight champion Francis Ngannou, two of the undercard competitors couldn't quite wait until October 28 to get their hands on each other.
Unbeaton Britons Fabio Wardley and David Adeleye, who are poised to box one another on the undercard with British boxing bragging rights on the line, both let their tempers fray on the red carpet ahead of the presser in Saudi Arabia. The incident kicked off following a tense exchange of words when Adeleye pushed Wardley away, prompting several members of both men's entourages to intervene.
The footage appears to show Wardley being dropped by a sucker punch, after which he was left with a visible cut above his left cheekbone.
Check out the various footage below:
lmao Fabio Wardley (?) gets roughed up and apparently dropped at a press conference pic.twitter.com/GyBhdVXoVW

— baboon10 (@realRollingPin) September 7, 2023
Fabio Wardley getting dropped pic.twitter.com/uG8AYjU8ZH

— b0xingfan (@b0xingfan) September 7, 2023
The aftermath of Fabio Wardley's confrontation with David Adeleye 😳#WardleyAdeleye | #FabioWardley | #FuryNgannou pic.twitter.com/Ws3euoYZnl

— IFL TV (@IFLTV) September 7, 2023
–
Comments
comments