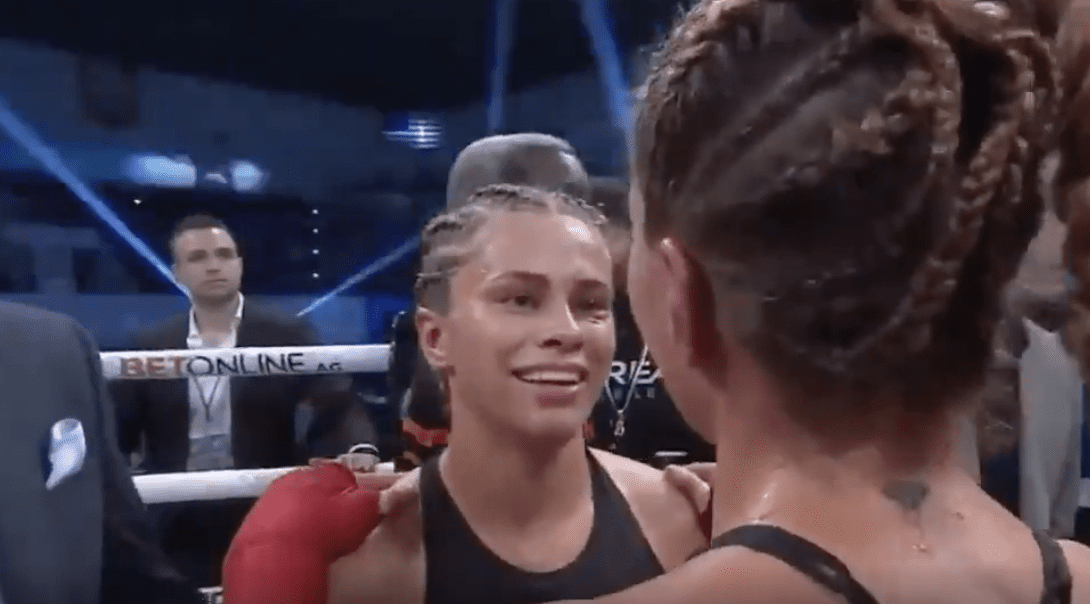 Paige VanZant's Bare Knuckle debut didn't go to plan.
The former UFC star made her debut with Bare Knuckle FC tonight at KnuckleMania in the main event, coming up short to Britain Hart via a unanimous judges decision. In truth, VanZant had little success during the fight, really only finding momentum in the last 30 seconds of the contest when Hart began to tire.
The rules of BKFC, which allows fighters to clinch for as long as they're throwing strikes, appeared to hurt VanZant, who often found herself committing to tying up Hart and allowing Hart to constantly throw strikes throughout.
Hart turned VanZant's head!!! 😤#KnuckleMania #BKFC pic.twitter.com/0dbtEPITiu

— BroBible (@BroBible) February 6, 2021
Paige VanZant vs Britain Hart 👀 #KnuckleMania pic.twitter.com/LZqxRV2wus

— FIGHTMAG (@fightmag) February 6, 2021
After the contest, Hart made an impassioned speech on the microphone.
"I'm not a person. I'm not. I'm a fucking feeling. And all you guys are going to feel it," Hart said. "… You knocked my teeth out. Good thing sharks can grow back their teeth. I made this moment about the people who believe, not the people who don't believe."
Britain Hart defeats PVZ in PVZ's Bare Knuckle debut #KnuckleMania pic.twitter.com/G92MROjzX4

— Spinnin Backfist (@SpinninBackfist) February 6, 2021
Britain Hart is not a person pic.twitter.com/blukf8DWP9

— Dan Canobbio (@DanCanobbio) February 6, 2021
–
Comments
comments